 Timeline
Lifetime: 1818 - 1891 Passed: ≈ 132 years ago
Title
Lawyer, Biographer
Country/Nationality
United States
Wikipedia
William Herndon
William Henry Herndon was a law partner and biographer of President Abraham Lincoln. He was an early member of the new Republican Party and was elected mayor of Springfield, Illinois.
Herndon was born the first child of Archer G. Herndon (1795–1867) and his wife, on December 25, 1818, in Greensburg, Kentucky. The family moved to Illinois in 1820. Another child was born to Archer and his wife in Macon County, Illinois. By the spring of 1821 the family was living in Sangamon County. When William was five, the family settled in the German Prairie settlement located five miles northeast of Springfield. Two more children were born to the family there.
Herndon's father built the first tavern in Springfield and was engaged in other forms of mercantile business from 1825 to 1836. He was also involved in politics as state senator, and was one of the men instrumental in having the state capital moved to Springfield.
Herndon attended Illinois College from 1836 to 1837 in Jacksonville, Illinois, but he had "an unsuccessful year". Following this, he returned to Springfield and clerked at the Joshua Speed store, where he often engaged in debates, discussions, and poetry readings with Abraham Lincoln. Their conversations and readings were sometimes practice sessions before presenting material to the Young Men's Lyceum, where both Herndon and Lincoln were members. It was an organization of aspiring young men.
In 1840 Herndon began studying law at the Logan and Lincoln law practice. Although employed at Joshua Speed's store, he studied up to 14 hours per day after work.
In November 1844, Herndon passed the bar examination. In 1854, ten years after beginning his partnership with Lincoln, he was elected mayor of Springfield, Illinois. Both men were members of the Whig Party. In 1856 Herndon was one of the organizers of the fledgling Republican Party after the dissolution of the Whigs. Lincoln also joined the Republican Party, hoping to "fuse" people of disparate political affiliations who wanted to end slavery.
Herndon died March 18, 1891, at his farm north of Springfield. He is buried in Oak Ridge Cemetery in Springfield, the same cemetery as the Lincoln Tomb.
Herndon's son William, or Willie, died the same day as his father. Herndon died of la grippe (influenza) and his son Willie had la grippe that turned into pneumonia. At that time, William H., his wife Anna, Willie M. and their daughters Nina and Millie were at home. Herndon's wife Anna died less than two years later.
Books by William Herndon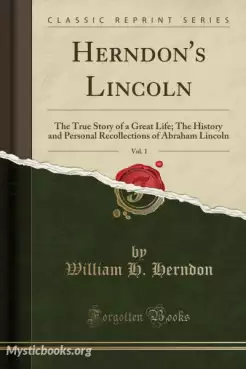 Family
Autobiography
Determination
Life
A biography of Abraham Lincoln by his long-time law partner, William Herndon and Herndon's collaborator, Jesse Weik. The book is notable for its extensive use of first hand interviews (unusual for its time) and for Herndon's overriding determination...