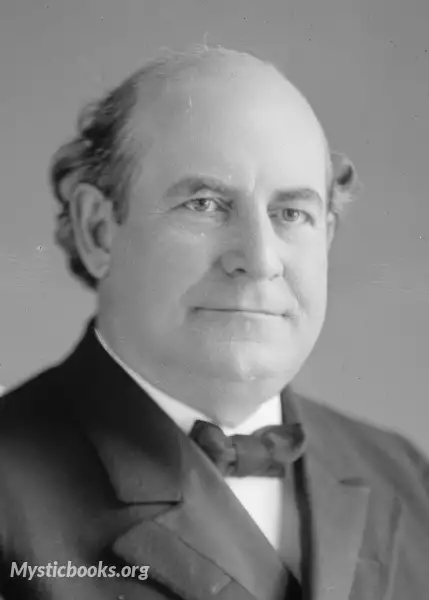 Timeline
Lifetime: 1925 - 1925 Passed: ≈ 98 years ago
Title
Orator, Politician
Country/Nationality
United States
Wikipedia
William Jennings Bryan
William Jennings Bryan was an American orator and politician. Beginning in 1896, he emerged as a dominant force in the Democratic Party, running three times as the party's nominee for President of the United States in the 1896, 1900, and the 1908 elections. He served in the House of Representatives from 1891 to 1895 and as the Secretary of State under Woodrow Wilson. Because of his faith in the wisdom of the common people, he was often called "The Great Commoner".
Born and raised in Illinois, Bryan moved to Nebraska in the 1880s. He won election to the House of Representatives in the 1890 elections, serving two terms before making an unsuccessful run for the Senate in 1894. At the 1896 Democratic National Convention, Bryan delivered his "Cross of Gold speech" which attacked the gold standard and the eastern moneyed interests and crusaded for inflationary policies built around the expanded coinage of silver coins. In a repudiation of incumbent President Grover Cleveland and his conservative Bourbon Democrats, the Democratic convention nominated Bryan for president, making Bryan the youngest major party presidential nominee in U.S. history. Subsequently, Bryan was also nominated for president by the left-wing Populist Party, and many Populists would eventually follow Bryan into the Democratic Party. In the intensely fought 1896 presidential election, Republican nominee William McKinley emerged triumphant. At age 36, Bryan remains the youngest person in United States history to receive an electoral vote. Bryan gained fame as an orator, as he invented the national stumping tour when he reached an audience of 5 million people in 27 states in 1896.
William Jennings Bryan was born in Salem, Illinois on March 19, 1860, to Silas Lillard Bryan and Mariah Elizabeth Bryan. Silas Bryan had been born in 1822 and had established a legal practice in Salem in 1851. He married Mariah, a former student of his at McKendree College, in 1852. Of Scots-Irish and English ancestry, Silas Bryan was an avid Jacksonian Democrat. He won election as a state circuit judge and in 1866 moved his family to a 520-acre farm north of Salem, living in a ten-room house that was the envy of Marion County. Silas served in various local positions and sought election to Congress in 1872, but was narrowly defeated by the Republican candidate. An admirer of Andrew Jackson and Stephen A. Douglas, Silas passed on his Democratic affiliation to his son, William, who would remain a life-long Democrat.
William was the fourth child of Silas and Mariah, but all three of his older siblings died during infancy. He also had five younger siblings, four of whom lived to adulthood. William was home-schooled by his mother until the age of ten. Demonstrating a precocious talent for oratory, and gave public speeches as early as the age of four. Silas was a Baptist and Mariah was a Methodist, but William's parents allowed him to choose his own church. At age fourteen, he had a conversion experience at a revival. He said it was the most important day of his life. At age fifteen, he was sent to attend Whipple Academy, a private school in Jacksonville, Illinois.
In the days following the Scopes Trial, Bryan delivered several speeches in Tennessee. On Sunday, July 26, 1925, Bryan died in his sleep from apoplexy after attending a church service in Dayton. Bryan's body was transported by rail from Dayton to Washington, D.C. He was buried at Arlington National Cemetery, with an epitaph that read "Statesman, yet Friend to Truth! Of Soul Sincere, in Action Faithful, and in Honor Clear" and on the other side "He Kept the Faith"
Books by William Jennings Bryan