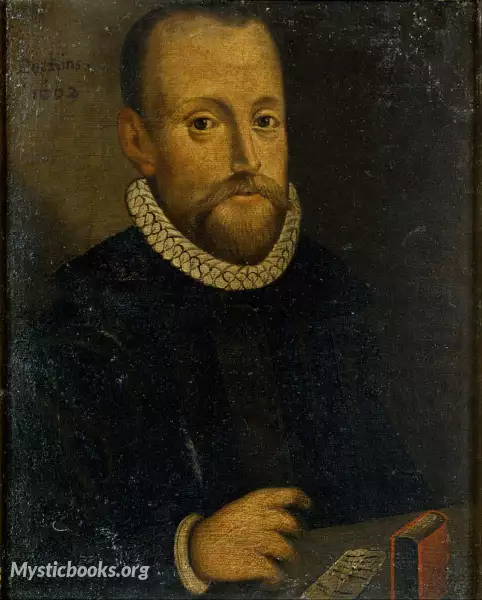 Timeline
Lifetime: 1558 - 1602 Passed: ≈ 421 years ago
Title
Theologian
Country/Nationality
England
Wikipedia
William Perkins
William Perkins was an influential English cleric and Cambridge theologian, receiving both a B.A. and M.A. from the university in 1581 and 1584 respectively, and also one of the foremost leaders of the Puritan movement in the Church of England during the Elizabethan era. Although not entirely accepting of the Church of England's ecclesiastical practices, Perkins conformed to many of the policies and procedures imposed by the Elizabethan Settlement. He did remain, however, sympathetic to the non-conformist puritans and even faced disciplinary action for his support.
Perkins was a prolific author who penned over forty works, many of which were published posthumously. In addition to writing, he also served as a fellow at Christ's College and as a lecturer at St Andrew's Church in Cambridge. He was a firm proponent of Reformed theology, particularly the supralapsarian theology of Theodore Beza and John Calvin. In addition, he was a staunch defender of Protestant ideals, specifically the five solae with a particular emphasis on solus Christus and sola Scriptura.
Perkins was born to Thomas and Anna Perkins at Marston Jabbett in the parish of Bulkington, Warwickshire, England in 1558, the year in which the Protestant Elizabeth I succeeded her Catholic sister Mary as Queen of England. Perkins lived his entire life under Elizabeth I, dying one year before the Queen's own death in 1603. Perkins's relationship with Elizabeth was ambiguous: on the one hand, she was Good Queen Bess, the monarch under whom England finally and firmly became a Protestant nation; on the other hand, Perkins and the other members of the Puritan movement were frustrated that the Elizabethan settlement had not gone far enough and pushed for further Reformation.
Little is known of Perkins' childhood and upbringing. Sometime in his early life he was rendered lame which forced him to write with his left hand. His family was evidently of some means, since in June 1577, at age 19, Perkins was enrolled as a pensioner of Christ's College, Cambridge being trained in the tradition of the Reformed scholastic framework. He would receive his BA in 1581 and his MA in 1584.
In 1602, Perkins suffered from "the stone". After several weeks of suffering, he died on 22 October 1602 at age 44.
James Montagu preached his funeral sermon, taking as his text Joshua 1.2, 'Moses my servant is dead'. He was buried in St. Andrew's, the church which he had pastored for eighteen years.
Books by William Perkins Faith
Art
Christianity
Science
Divinity
Sermons
God
A treatise concerning the sacred and only true manner and method of preaching. To the faithful ministers of the gospel and to all that are desirous of and do labour for the knowledge of holy learning. That common place of divinity, which concerneth...