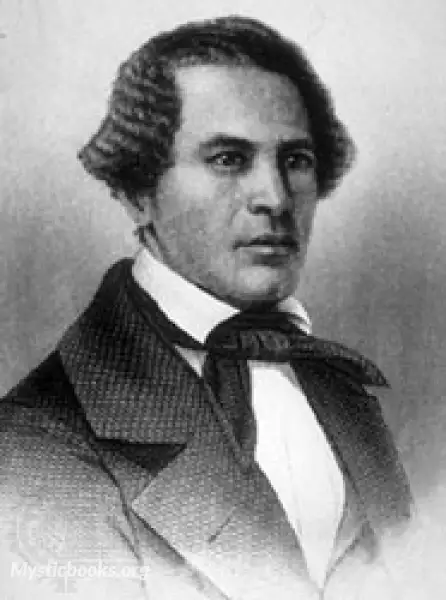 William Wells Brown
Writer , Historian
Country:

United States
Lifetime: 1815 - 1884 Passed: ≈ 138 years ago
William Wells Brown was a prominent abolitionist lecturer, novelist, playwright, and historian in the United States. Born into slavery in Montgomery County, Kentucky, near the town of Mount Sterling, Brown escaped to Ohio in 1834 at the age of 19. He settled in Boston, Massachusetts, where he worked for abolitionist causes and became a prolific writer. While working for abolition, Brown also supported causes including: temperance, women's suffrage, pacifism, prison reform, and an anti-tobacco movement.[1] His novel Clotel (1853), considered the first novel written by an African American, was published in London, England, where he resided at the time; it was later published in the United States.
A descendant of Mayflower passenger Stephen Hopkins through his father, William was born into slavery in 1814 (or March 15, 1815) near Lexington, Kentucky, where his mother Elizabeth was a slave (she was of Native American and Black ancestry). She was held by Dr. John Young and had seven children, each by different fathers. (In addition to William, her children were Solomon, Leander, Benjamin, Joseph, Milford, and Elizabeth.) William was of mixed race; his father was George W. Higgins, a white planter and cousin of his master Dr. Young. Higgins formally acknowledged William as his son and made Young promise not to sell him.But Young did sell the boy and his mother. In the end, William was sold several times before he was twenty years old. During his first year of freedom in 1834, Brown at age 20 married Elizabeth Schooner. They had two daughters who survived to adulthood: Clarissa and Josephine. William and Elizabeth later became estranged. In 1851, Elizabeth died in the United States.
Brown had been in England since 1849 with their daughters, lecturing on the abolitionist circuit. After his freedom was purchased in 1854 by a British couple, Brown returned with his daughters to the US, settling in Boston. On April 12, 1860, the 44-year-old Brown married again, to 25-year-old Anna Elizabeth Gray in Boston.
In 1856, Well's daughter Josephine Brown published Biography of an American Bondman (1856), an updated account of his life, drawing heavily on material from her father's 1847 autobiography. She added details about abuses he suffered as a slave, as well as new material about his years in Europe.
Brown stayed abroad until 1854. Passage of the 1850 Fugitive Slave Law had increased his risk of capture even in the free states. Only after the Richardson family of Britain purchased his freedom in 1854 (they had done the same for Frederick Douglass), did Brown return to the United States. He quickly rejoined the anti-slavery lecture circuit.
Perhaps because of the rising social tensions in the 1850s, Brown became a proponent of African-American emigration to Haiti, an independent black republic in the Caribbean since 1804. He decided that more militant actions were needed to help the abolitionist cause.
During the American Civil War and in the decades that followed, Brown continued to publish fiction and non-fiction books, securing his reputation as one of the most prolific African-American writers of his time. He also helped recruit blacks to fight for the Union in the Civil War. He introduced Robert John Simmons from Bermuda to the abolitionist Francis George Shaw, father of Colonel Robert Gould Shaw, the commanding officer of the 54th Massachusetts Volunteer Infantry Regiment.
While continuing to write, Brown was active in the Temperance movement as a lecturer. After studying homeopathic medicine, he opened a medical practice in Boston's South End while keeping a residence in Cambridge. In 1882 he moved to the nearby city of Chelsea.
William Wells Brown died on November 6, 1884, in Chelsea, Massachusetts, at the age of 70.
Wikipedia

More info about author