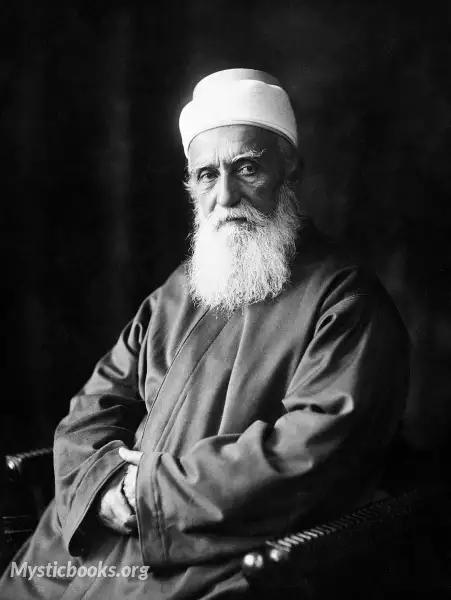 Timeline
Lifetime: 1844 - 1921 Passed: ≈ 101 years ago
Title
Writer
Country/Nationality
Asia
Wikipedia
Abdul-Baha Abbas
ʻAbdu'l-Bahá was the eldest son of Bahá'u'lláh and served as head of the Bahá'í Faith from 1892 until 1921. ʻAbdu'l-Bahá was later canonized as the last of three "central figures" of the religion, along with Bahá'u'lláh and the Báb, and his writings and authenticated talks are regarded as a source of Bahá'í sacred literature.
He was born in Tehran to an aristocratic family. At the age of eight his father was imprisoned during a government crackdown on the Bábí Faith and the family's possessions were looted, leaving them in virtual poverty. His father was exiled from their native Iran, and the family went to live in Baghdad, where they stayed for nine years. They were later called by the Ottoman state to Istanbul before going into another period of confinement in Edirne and finally the prison-city of ʻAkká (Acre). ʻAbdu'l-Bahá remained a political prisoner there until the Young Turk Revolution freed him in 1908 at the age of 64. He then made several journeys to the West to spread the Bahá'í message beyond its middle-eastern roots, but the onset of World War I left him largely confined to Haifa from 1914 to 1918. The war replaced the openly hostile Ottoman authorities with the British Mandate, who knighted him for his help in averting famine following the war.
ʻAbdu'l-Bahá was the eldest son of Bahá'u'lláh and Navváb. He was born on the very same night on which the Báb declared his mission. Born with the given name of ʻAbbás, he was named after his grandfather Mírzá ʻAbbás Núrí, a prominent and powerful nobleman. As a child, ʻAbdu'l-Bahá was shaped by his father's position as a prominent Bábí. He recalled how he met the Bábí Táhirih and how she would take "me on to her knee, caress me, and talk to me. I admired her most deeply". ʻAbdu'l-Bahá had a happy and carefree childhood. The family's Tehran home and country houses were comfortable and beautifully decorated. ʻAbdu'l-Bahá enjoyed playing in the gardens with his younger sister with whom he was very close. Along with his younger siblings a sister, Bahíyyih, and a brother, Mihdí – the three lived in an environment of privilege, happiness and comfort.With his father declining a position as minister of the royal court. During his young boyhood ʻAbdu'l-Bahá witnessed his parents' various charitable endeavours, which included converting part of the home to a hospital ward for women and children.
Bahá'u'lláh was eventually released from prison, but ordered into exile, and ʻAbdu'l-Bahá, then 8 years old, joined his father on the journey to Baghdad in the winter (January to April) of 1853. During the journey ʻAbdu'l-Bahá suffered from frost-bite. After a year of difficulties Bahá'u'lláh absented himself rather than continue to face the conflict with Mirza Yahya and secretly secluded himself in the mountains of Sulaymaniyah in April 1854 a month before ʻAbdu'l-Bahá's tenth birthday. Mutual sorrow resulted in him, his mother and sister becoming constant companions. ʻAbdu'l-Bahá was particularly close to both, and his mother took active participation in his education and upbringing. During the two-year absence of his father ʻAbdu'l-Bahá took up the duty of managing the affairs of the family, before his age of maturity (14 in middle-eastern society) and was known to be occupied with reading and, at a time of hand-copied scriptures being the primary means of publishing, was also engaged in copying the writings of the Báb. ʻAbdu'l-Bahá also took an interest in the art of horse riding and, as he grew, became a renowned rider.
ʻAbdu'l-Bahá at age 24
When ʻAbdu'l-Bahá was a young man, speculation was rife amongst the Bahá'ís to whom he would marry. Several young girls were seen as marriage prospects but ʻAbdu'l-Bahá seemed disinclined to marriage. On 8 March 1873, at the urging of his father, the twenty-eight-year-old ʻAbdu'l-Bahá married Fátimih Nahrí of Isfahán (1847–1938) a twenty-five-year-old from an upper-class family of the city. Her father was Mírzá Muḥammad ʻAlí Nahrí of Isfahan an eminent Bahá'í with prominent connections. Fátimih was brought from Persia to ʻAkká after both Bahá'u'lláh and his wife Navváb expressed an interest in her to marry ʻAbdu'l-Bahá. After a wearisome journey from Isfahán to Akka she finally arrived accompanied by her brother in 1872. The young couple were betrothed for about five months before the marriage itself commenced. In the meantime, Fátimih lived in the home of ʻAbdu'l-Bahá's uncle Mírzá Músá. According to her later memoirs, Fátimih fell in love with ʻAbdu'l-Bahá on seeing him. ʻAbdu'l-Bahá himself had showed little inkling to marriage until meeting Fátimih; who was entitled Munírih by Bahá'u'lláh. Munírih is a title meaning "Luminous".
ʻAbdu'l-Bahá died on Monday, 28 November 1921, sometime after 1:15 a.m. (27th of Rabi' al-awwal, 1340 AH).
Then Colonial Secretary Winston Churchill telegraphed the High Commissioner for Palestine, "convey to the Bahá'í Community, on behalf of His Majesty's Government, their sympathy and condolescence." Similar messages came from Viscount Allenby, the Council of Ministers of Iraq, and others.
On his funeral, which was held the next day, Esslemont notes:
... a funeral the like of which Haifa, nay Palestine itself, had surely never seen... so deep was the feeling that brought so many thousands of mourners together, representative of so many religions, races and tongues.
Among the talks delivered at the funeral, Shoghi Effendi records Stewart Symes giving the following tribute:
Most of us here have, I think, a clear picture of Sir ʻAbdu'l Bahá ʻAbbás, of His dignified figure walking thoughtfully in our streets, of His courteous and gracious manner, of His kindness, of His love for little children and flowers, of His generosity and care for the poor and suffering. So gentle was He, and so simple, that in His presence one almost forgot that He was also a great teacher, and that His writings and His conversations have been a solace and an inspiration to hundreds and thousands of people in the East and in the West.
He was buried in the front room of the Shrine of the Báb on Mount Carmel. His interment there is meant to be temporary, until his own mausoleum can be built in the vicinity of Riḍván Garden.
Books by Abdul-Baha Abbas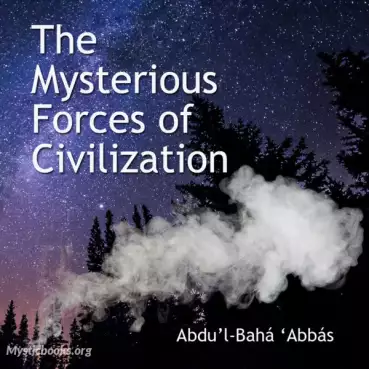 Political Science
Religion
Religion
Civil and Political Rights
The Mysterious Forces of Civilization is a work written before 1875 by 'Abbás Effendí, known as 'Abdu'l-Bahá (the Servant of Bahá) (1844-1921). The Persian text was first lithographed in Bombay in 1882 and printed in Cairo in 1911. 'Abdu'l-Bahá was t...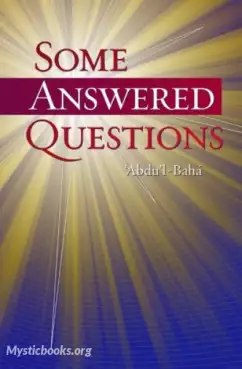 Evolution
Faith
Christian Philosophy
Christianity
Science
London
Immortality
Persia
It contains questions asked to `Abdu'l-Bahá by Laura Clifford Barney, during several of her visits to Haifa between 1904 and 1906, and `Abdu'l-Bahá's answers to these questions. Love
History
Truth
War
Beauty
Paris
Spirituality
Modern
God
Paris Talks is a book transcribed from talks given by `Abdu'l-Bahá, the son and successor of Bahá'u'lláh, the Founder of the Bahá'í Faith, while in Paris. It was originally published as "Talks by `Abdu'l-Bahá Given in Paris" in 1912. `Abdu'l-Bahá did...