 Timeline
Lifetime: 1831 - 1909 Passed: ≈ 114 years ago
Title
Cleric, Headmaster
Country/Nationality
England
Wikipedia
Arthur Gray Butler
Arthur Gray Butler was an English academic and cleric, the first headmaster of Haileybury College.
Born at the rectory, Gayton, Northamptonshire, on 19 August 1831, he was the third son of George Butler, Dean of Peterborough, and his wife Sarah Maria Gray, eldest daughter of John Gray of Wembley Park, Middlesex. His youngest brother, Henry Montagu Butler, became Master of Trinity College, Cambridge. He entered Rugby School under A. C. Tait in August 1844, and was admitted as a scholar of University College, Oxford, in March 1850.
At Oxford, Gray was an original member of the Essay Club founded in 1852 by his friend George Joachim Goschen, and was president of the Oxford Union in 1853. In the same year, he won the Ireland scholarship, and graduated B.A. with a first class in the final classical school. He was elected a fellow of Oriel College, Oxford in 1856, proceeding M.A. in the following year. He did not reside on his fellowship: returning to Rugby School in 1858, he served as assistant master under Frederick Temple, and was ordained deacon in 1861 and priest in 1862.
Butler published two dramas, Charles I (1874; 2nd edit. 1907) and Harold (1892; 2nd edit. 1906), and two volumes of verse entitled The Choice of Achilles (1900) and Hodge and the Land (1907). In The Three Friends: a Story of Rugby in the Forties (1900), he recorded the effect produced on his contemporaries by the early poems of Alfred Tennyson. It also documented the early friendships of Matthew Arnold, A. H. Clough, and Theodore Walrond.
On 4 April 1877, Butler married Harriet Jessie Edgeworth, daughter of Michael Pakenham Edgeworth and niece of Maria Edgeworth, who survived him with one son and three daughters. Their son, Harold Edgeworth Butler, became professor of Latin at University College, London, in 1911. Their daughters, Ruth Florence Butler (1881-1982) and Christina Violet Butler (1884-1982) were both social activists and local historians who contributed to the Victoria history of the county of Gloucester (1907)
Books by Arthur Gray Butler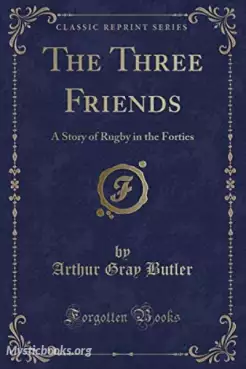 19th century
School
Friendship
Challenges
Life
Sports
The story follows the lives of the three friends as they navigate the challenges of growing up and dealing with the many obstacles and temptations that life throws their way. Through their shared love of rugby, the three friends learn about friendshi...