 Timeline
Lifetime: 1850 - 1898 Passed: ≈ 125 years ago
Title
Author , Journalist
Country/Nationality
United States
Wikipedia
Edward Bellamy
Edward Bellamy was an American author, journalist, and political activist most famous for his utopian novel Looking Backward. Bellamy's vision of a harmonious future world inspired the formation of numerous "Nationalist Clubs" dedicated to the propagation of Bellamy's political ideas.
After working as a journalist and writing several unremarkable novels, Bellamy published Looking Backward in 1888. Looking Backward was one of the most commercially successful books published in the United States in the 19th century, and it especially appealed to a generation of intellectuals alienated from the alleged dark side of the Gilded Age. In the early 1890s, Bellamy established a newspaper known as The New Nation and began to promote united action between the various Nationalist Clubs and the emerging Populist Party. He published Equality, a sequel to Looking Backward, in 1897, and died the following year.
Edward Bellamy was born in Chicopee, Massachusetts. His father was Rufus King Bellamy , a Baptist minister and a descendant of Joseph Bellamy. His mother, Maria Louisa Putnam Bellamy, was a Calvinist.She was the daughter of a Baptist minister named Benjamin Putnam, who was forced to withdraw from the ministry in Salem, Massachusetts, following objections to his becoming a Freemason.
Bellamy attended public school at Chicopee Falls before leaving for Union College of Schenectady, New York, where he studied for just two semesters. Upon leaving school, Bellamy made his way to Europe for a year, spending extensive time in Germany. Bellamy briefly studied law but abandoned that field without ever having practiced as a lawyer, instead entering the world of journalism. In this capacity Bellamy briefly served on the staff of the New York Post before returning to his native Massachusetts to take a position at the Springfield Union.
Edward Bellamy died of tuberculosis in Chicopee Falls, Massachusetts. He was 48 years old at the time of his death.
His lifelong home in Chicopee Falls, built by his father, was designated a National Historic Landmark in 1971.
Bellamy was the cousin of Francis Bellamy, famous for creation of the Pledge of Allegiance.
Bellamy Road, a residential road in Toronto, is named for the author.
Books by Edward Bellamy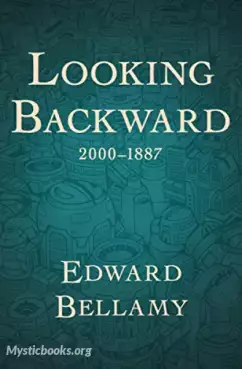 Intelligence
Science Fiction
Social Class
Utopia
political
Socialism
Social Status
The book tells the story of Julian West, a young American who, towards the end of the 19th century, falls into a deep, hypnosis-induced sleep and wakes up more than a century later. He finds himself in the same location (Boston, Massachusetts) but in...