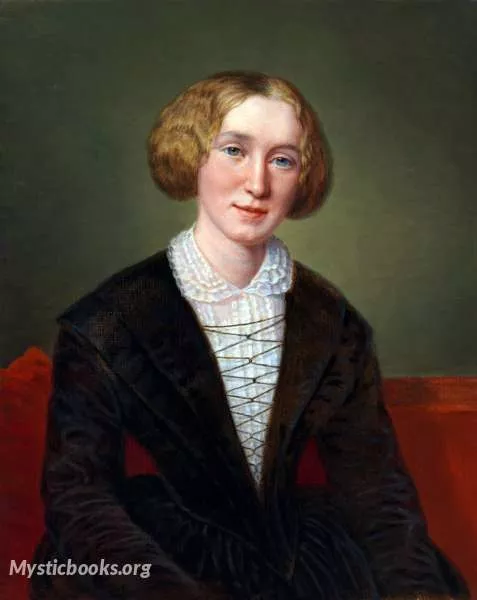 Timeline
Lifetime: 1819 - 1880 Passed: ≈ 142 years ago
Title
Novelist, Poet, Journalist, Translator
Country/Nationality
England
Wikipedia
George Eliot
Mary Ann Evans known by her pen name George Eliot, was an English novelist, poet, journalist, translator and one of the leading writers of the Victorian era. Like Charles Dickens and Thomas Hardy, she emerged from provincial England and most of her works are set there. They are known for their realism, psychological insight, and sense of place and detailed depiction of the countryside.
Although female authors were published under their own names during her lifetime, she wanted to escape the stereotype of women's writing being limited to light-hearted romances. She also wanted to have her fiction judged separately from her already extensive and widely known work as a translator, editor and critic. Another factor in her use of a pen name may have been a desire to shield her private life from public scrutiny, thus avoiding the scandal that would have arisen because of her relationship with the married George Henry Lewes.
Middlemarch was described by the novelist Virginia Woolf as "one of the few English novels written for grown-up people" and by Martin Amis and Julian Barnes as the greatest novel in the English language.
Mary Ann Evans was born in Nuneaton, Warwickshire, England. She was the third child of Robert Evans (1773–1849) and Christiana Evans (née Pearson, 1788–1836), the daughter of a local mill-owner. Mary Ann's name was sometimes shortened to Marian. Her full siblings were Christiana, known as Chrissey (1814–59), Isaac (1816–1890), and twin brothers who died a few days after birth in March 1821. She also had a half-brother, Robert (1802–64), and half-sister, Fanny (1805–82), from her father's previous marriage to Harriet Poynton (1780-1809). Her father Robert Evans, of Welsh ancestry, was the manager of the Arbury Hall Estate for the Newdigate family in Warwickshire, and Mary Ann was born on the estate at South Farm. In early 1820 the family moved to a house named Griff House, between Nuneaton and Bedworth
On her return to England the following year (1850), she moved to London with the intent of becoming a writer, and she began referring to herself as Marian Evans. She stayed at the house of John Chapman, the radical publisher whom she had met earlier at Rosehill and who had published her Strauss translation. Chapman had recently purchased the campaigning, left-wing journal The Westminster Review. Evans became its assistant editor in 1851 after joining just a year earlier. Evans' writings for the paper were comments on her views of society and the Victorian way of thinking.
On 16 May 1880 Eliot married John Walter Cross (1840–1924) and again changed her name, this time to Mary Ann Cross. While the marriage courted some controversy due to the difference in ages, it pleased her brother Isaac, who had broken off relations with her when she had begun to live with Lewes, and now sent congratulations. While the couple were honeymooning in Venice, Cross, in a fit of depression, jumped from the hotel balcony into the Grand Canal. He survived, and the newlyweds returned to England. They moved to a new house in Chelsea, but Eliot fell ill with a throat infection. This, coupled with the kidney disease with which she had been afflicted for several years, led to her death on 22 December 1880 at the age of 61.
Eliot was not buried in Westminster Abbey because of her denial of the Christian faith and her adulterous affair with Lewes. She was buried in Highgate Cemetery (East), Highgate, London, in the area reserved for political and religious dissenters and agnostics, beside the love of her life, George Henry Lewes. The graves of Karl Marx and her friend Herbert Spencer are nearby. In 1980, on the centenary of her death, a memorial stone was established for her in the Poets' Corner.
Several landmarks in her birthplace of Nuneaton are named in her honour. These include The George Eliot School, Middlemarch Junior School, George Eliot Hospital (formerly Nuneaton Emergency Hospital), and George Eliot Road, in Foleshill, Coventry.
A statue of Eliot is in Newdegate Street, Nuneaton, and Nuneaton Museum & Art Gallery has a display of artifacts related to her.