 Timeline
Lifetime: 1849 - 1914 Passed: ≈ 109 years ago
Title
Reformer , Journalist
Country/Nationality
United States
Wikipedia
Jacob Riis
Jacob August Riis was a Danish-American social reformer, "muckraking" journalist and social documentary photographer. He contributed significantly to the cause of urban reform in America at the turn of the twentieth century. He is known for using his photographic and journalistic talents to help the impoverished in New York City; those impoverished New Yorkers were the subject of most of his prolific writings and photography. He endorsed the implementation of "model tenements" in New York with the help of humanitarian Lawrence Veiller. Additionally, as one of the most famous proponents of the newly practicable casual photography, he is considered one of the fathers of photography due to his very early adoption of flash in photography.
While living in New York, Riis experienced poverty and became a police reporter writing about the quality of life in the slums. He attempted to alleviate the bad living conditions of poor people by exposing their living conditions to the middle and upper classes.
Born in 1849 in Ribe, Denmark, Jacob Riis was the third of the 15 children (one of whom, an orphaned niece, was fostered) of Niels Edward Riis, a schoolteacher and writer for the local Ribe newspaper, and Carolina Riis (née Bendsine Lundholm), a homemaker. Among the 15, only Jacob, one sister, and the foster sister survived into the twentieth century. Riis was influenced by his father, whose school Riis delighted in disrupting. His father persuaded him to read (and improve his English via) Charles Dickens's magazine All the Year Round and the novels of James Fenimore Cooper.
Jacob had a happy childhood but experienced tragedy at the age of eleven when his brother Theodore, a year younger, drowned. He never forgot his mother's grief.
Riis wrote his autobiography, The Making of an American, in 1901. His daughter, Clara C. Riis, married Dr. William Clarence Fiske. His son, John Riis (1882–1946), served in Gifford Pinchot's new United States Forest Service from 1907 to 1913 as a ranger and forest supervisor on national forests in Utah, California and Oregon. He chronicled his time in the Forest Service in his 1937 book, Ranger Trails. Another son, Edward V. Riis, was appointed US Director of Public Information in Copenhagen toward the end of World War I; he spoke against antisemitism. A third son, Roger Williams Riis (1894–1953), was also a reporter and activist. In 1905, Jacob Riis's wife Elisabeth became ill and died. Riis remarried in 1907, and with his new wife, Mary Phillips, relocated to a farm in Barre, Massachusetts. Riis died at the farm on May 26, 1914. His second wife lived until 1967, continuing work on the farm, working on Wall Street and teaching classes at Columbia University. Riis's grave is marked by an unmarked granite boulder in Riverside Cemetery, in Barre, Massachusetts.
Books by Jacob Riis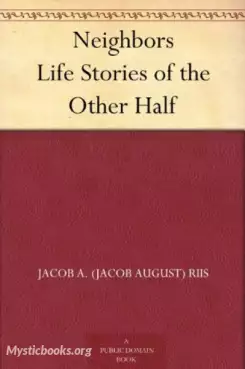 These stories have come to me from many sources—some from my own experience, others from settlement workers, still others from the records of organized charity, that are never dry, as some think, but alive with vital human interest and with the faith... Autobiography
Struggle
Passion
Life
America
United States
The Making of an American by Jacob Riis is a moving and enthusiastic autobiography, saturated with personality.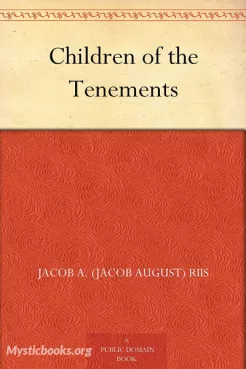 History
Social
Politics
Culture
America
Classics
Journalism
Experiences
Case
Neighborhood
Immigrants
"Children of the Tenements" by Jacob A. Riis is a non-fiction book that explores the lives of impoverished children living in New York City's tenement buildings during the late 19th century. Written in 1903, Riis, a social reformer and photographer,...