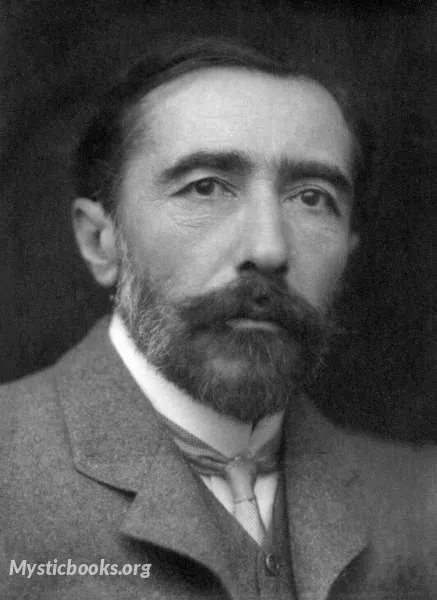 Timeline
Lifetime: 1857 - 1924 Passed: ≈ 99 years ago
Title
Novelist, Short-Story Writer, Essayist
Country/Nationality
Poland, England
Wikipedia
Joseph Conrad
Joseph Conrad (born Józef Teodor Konrad Korzeniowski, was a Polish-British writer regarded as one of the greatest novelists to write in the English language. Though he did not speak English fluently until his twenties, he was a master prose stylist who brought a non-English sensibility into English literature. Conrad wrote stories and novels, many with a nautical setting, that depict trials of the human spirit in the midst of what he saw as an impassive, inscrutable universe.
Conrad is considered an early modernist, though his works contain elements of 19th-century realism. His narrative style and anti-heroic characters, as in Lord Jim, for example, have influenced numerous authors, and many films have been adapted from, or inspired by, his works. Numerous writers and critics have commented that Conrad's fictional works, written largely in the first two decades of the 20th century, seem to have anticipated later world events.
Writing near the peak of the British Empire, Conrad drew, among other things, on his native Poland's national experiences and on his own experiences in the French and British merchant navies, to create short stories and novels that reflect aspects of a European-dominated world—including imperialism and colonialism—and that profoundly explore the human psyche.
Conrad was born on 3 December 1857 in Berdychiv , Ukraine, then part of the Russian Empire; the region had once been part of the Crown of the Kingdom of Poland. He was the only child of Apollo Korzeniowski—a writer, translator, political activist, and would-be revolutionary—and his wife Ewa Bobrowska. He was christened Józef Teodor Konrad Korzeniowski after his maternal grandfather Józef, his paternal grandfather Teodor, and the heroes (both named "Konrad") of two poems by Adam Mickiewicz, Dziady and Konrad Wallenrod, and was known to his family as "Konrad", rather than "Józef".
In Marseilles Conrad had an intensive social life, often stretching his budget. A trace of these years can be found in the northern Corsica town of Luri, where there is a plaque to a Corsican merchant seaman, Dominique Cervoni, whom Conrad befriended. Cervoni became the inspiration for some of Conrad's characters, such as the title character of the 1904 novel Nostromo. Conrad visited Corsica with his wife in 1921, partly in search of connections with his long-dead friend and fellow merchant seaman.
In the autumn of 1889 Conrad had begun writing his first novel, Almayer's Folly.
The son of a writer, praised by his [maternal] uncle [Tadeusz Bobrowski] for the beautiful style of his letters, the man who from the very first page showed a serious, professional approach to his work, presented his start on Almayer's Folly as a casual and non-binding incident... Yet he must have felt a pronounced need to write. Every page right from th[e] first one testifies that writing was not something he took up for amusement or to pass time. Just the contrary: it was a serious undertaking, supported by careful, diligent reading of the masters and aimed at shaping his own attitude to art and to reality.... We do not know the sources of his artistic impulses and creative gifts.
Conrad was a reserved man, wary of showing emotion. He scorned sentimentality; his manner of portraying emotion in his books was full of restraint, scepticism and irony. In the words of his uncle Bobrowski, as a young man Conrad was "extremely sensitive, conceited, reserved, and in addition excitable. In short [...] all the defects of the Nałęcz family."
Attempted suicide
In March 1878, at the end of his Marseilles period, 20-year-old Conrad attempted suicide, by shooting himself in the chest with a revolver. According to his uncle, who was summoned by a friend, Conrad had fallen into debt. Bobrowski described his subsequent "study" of his nephew in an extensive letter to Stefan Buszczyński, his own ideological opponent and a friend of Conrad's late father Apollo.[note 18] To what extent the suicide attempt had been made in earnest likely will never be known, but it is suggestive of a situational depression.
On 3 August 1924, Conrad died at his house, Oswalds, in Bishopsbourne, Kent, England, probably of a heart attack. He was interred at Canterbury Cemetery, Canterbury, under a misspelled version of his original Polish name, as "Joseph Teador Conrad Korzeniowski". Inscribed on his gravestone are the lines from Edmund Spenser's The Faerie Queene which he had chosen as the epigraph to his last complete novel, The Rover:
Sleep after toyle, port after stormie seas,

Ease after warre, death after life, doth greatly please
Conrad's modest funeral took place amid great crowds. His old friend Edward Garnett recalled bitterly:
To those who attended Conrad's funeral in Canterbury during the Cricket Festival of 1924, and drove through the crowded streets festooned with flags, there was something symbolical in England's hospitality and in the crowd's ignorance of even the existence of this great writer. A few old friends, acquaintances and pressmen stood by his grave.
Another old friend of Conrad's, Cunninghame Graham, wrote Garnett:
"Aubry was saying to me... that had Anatole France died, all Paris would have been at his funeral."
Conrad's wife Jessie died twelve years later, on 6 December 1936, and was interred with him.
In 1996 his grave was designated a Grade II listed structure.
Books by Joseph Conrad
Showing 1 to 24 of 26 results