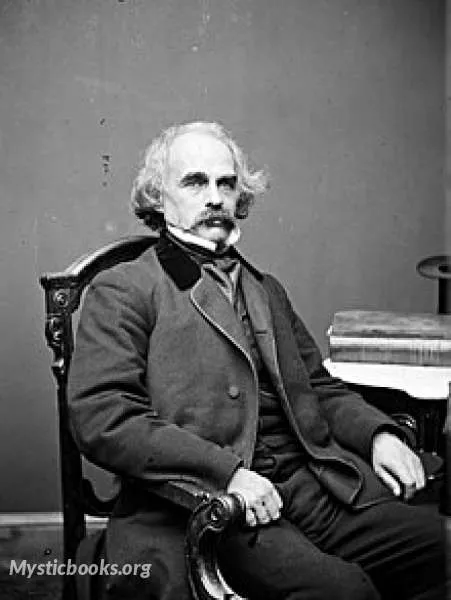 Timeline
Lifetime: 1804 - 1864 Passed: ≈ 159 years ago
Title
American Novelist, Dark Romantic, Short Story Writer.
Country/Nationality
United States
Wikipedia
Nathaniel Hawthorne
Hawthorne's works belong to romanticism or, more specifically, dark romanticism, cautionary tales that suggest that guilt, sin, and evil are the most inherent natural qualities of humanity.Many of his works are inspired by Puritan New England, combining historical romance loaded with symbolism and deep psychological themes, bordering on surrealism. His depictions of the past are a version of historical fiction used only as a vehicle to express common themes of ancestral sin, guilt and retribution. His later writings also reflect his negative view of the Transcendentalism movement.
Hawthorne was predominantly a short story writer in his early career. Upon publishing Twice-Told Tales, however, he noted, "I do not think much of them," and he expected little response from the public. His four major romances were written between 1850 and 1860: The Scarlet Letter (1850), The House of the Seven Gables (1851), The Blithedale Romance (1852) and The Marble Faun (1860). Another novel-length romance, Fanshawe, was published anonymously in 1828. Hawthorne defined a romance as being radically different from a novel by not being concerned with the possible or probable course of ordinary experience. In the preface to The House of the Seven Gables, Hawthorne describes his romance-writing as using "atmospherical medium as to bring out or mellow the lights and deepen and enrich the shadows of the picture". The picture, Daniel Hoffman found, was one of "the primitive energies of fecundity and creation
Nathaniel Hawthorne (July 4, 1804 – May 19, 1864) was an American novelist, dark romantic, and short story writer. His works often focus on history, morality, and religion.
While on a tour of the White Mountains, he died in his sleep on May 19, 1864, in Plymouth, New Hampshire. Pierce sent a telegram to Elizabeth Peabody asking her to inform Mrs. Hawthorne in person. Mrs. Hawthorne was too saddened by the news to handle the funeral arrangements herself.Hawthorne's son Julian, a freshman at Harvard College, learned of his father's death the next day; coincidentally, he was initiated into the Delta Kappa Epsilon fraternity on the same day by being blindfolded and placed in a coffin. Longfellow wrote a tribute poem to Hawthorne published in 1866 called "The Bells of Lynn". Hawthorne was buried on what is now known as "Authors' Ridge" in Sleepy Hollow Cemetery, Concord, Massachusetts.Pallbearers included Longfellow, Emerson, Alcott, Oliver Wendell Holmes Sr., James T. Fields, and Edwin Percy Whipple.Emerson wrote of the funeral: "I thought there was a tragic element in the event, that might be more fully rendered—in the painful solitude of the man, which, I suppose, could no longer be endured, & he died of it."
His wife Sophia and daughter Una were originally buried in England. However, in June 2006, they were reinterred in plots adjacent to Hawthorne.
Books by Nathaniel Hawthorne