 Timeline
Lifetime: 69

CE

- 155

CE
Passed: ≈ 1868 years ago
Title
Bishop
Country/Nationality
England
Wikipedia
Polycarp
Polycarp was a Christian bishop of Smyrna. According to the Martyrdom of Polycarp, he died a martyr, bound and burned at the stake, then stabbed when the fire failed to consume his body. Polycarp is regarded as a saint and Church Father in the Catholic, Eastern Orthodox, Oriental Orthodox, Anglican, and Lutheran churches.
His name means "much fruit" in Greek. Both Irenaeus and Tertullian say that Polycarp had been a disciple of John the Apostle, one of Jesus' disciples. In On Illustrious Men, Jerome writes that Polycarp was a disciple of John the Apostle and that John had ordained him as a bishop of Smyrna. Polycarp is regarded as one of three chief Apostolic Fathers, along with Clement of Rome and Ignatius of Antioch.
The chief sources of information concerning the life of Polycarp are The Martyrdom of Polycarp, Adversus Haereses, The Epistle to Florinus, the epistles of Ignatius, and Polycarp's own letter to the Philippians. In 1999, the Harris Fragments, a collection of 3rd- to 6th-century Coptic texts that mention Polycarp, were published.
Christian Church. He is among the earliest Christians whose writings survived. Jerome wrote that Polycarp was a "disciple of the apostle John and by him ordained presbyter of Smyrna".He was an elder of an important congregation that was a large contributor to the founding of the Christian Church. He is from an era whose orthodoxy is widely accepted by Eastern Orthodox Churches, Oriental Orthodox Churches, Church of God groups, Sabbatarian groups, mainstream Protestants and Catholics alike.
According to Eusebius, Polycrates of Ephesus cited the example of Polycarp in defense of local practices during the quartodeciman controversy.
Irenaeus, who as a young man had heard Polycarp preach, described him as "a man who was of much greater weight, and a more steadfast witness of truth, than Valentinus, and Marcion, and the rest of the heretics". Polycarp lived in an age after the deaths of the apostles, when a variety of interpretations of the sayings of Jesus were being preached. His role was to authenticate orthodox teachings through his connection with the apostle John: "a high value was attached to the witness Polycarp could give as to the genuine tradition of old apostolic doctrine" "his testimony condemning as offensive novelties the figments of the heretical teachers". Irenaeus states that on Polycarp's visit to Rome, his testimony converted many disciples of Marcion and Valentinus.
Polycarp is remembered in the Church of England with a Lesser Festival on 23 February.
Books by Polycarp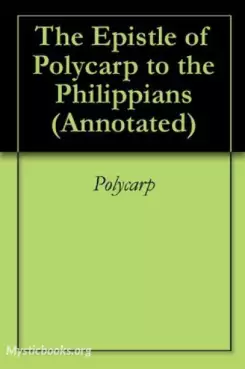 History
Religion
Theology
Faith
Christianity
Church
Christian Theology
Polycarp was a pupil of the Disciple John who taught him in the Christian faith. He spread the gospel and had great influence in all the Western and Eastern churches of his day and in the following centuries through his writings. He suffered martyrdo...