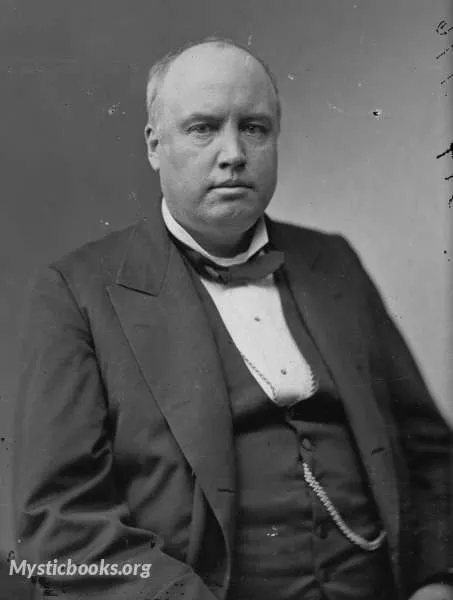 Timeline
Lifetime: 1833 - 1899 Passed: ≈ 124 years ago
Title
Politician, Orator, Lecturer
Country/Nationality
United States
Wikipedia
Robert Ingersoll
Robert Green Ingersoll was an American lawyer, writer, and orator during the Golden Age of Free Thought, who campaigned in defense of agnosticism. He was nicknamed "The Great Agnostic".
Robert Ingersoll was born in Dresden, New York. His father, John Ingersoll, was an abolitionist-sympathizing Congregationalist preacher, whose radical opinions caused him and his family to relocate frequently. For a time, Rev. John Ingersoll substituted as preacher for American revivalist Charles G. Finney while Finney was on a tour of Europe. Upon Finney's return, Rev. Ingersoll remained for a few months as co-pastor/associate pastor with Finney.
During 1853, "Bob" Ingersoll taught a term of school in Metropolis, Illinois, where he let one of his students, the future Judge Angus M. L. McBane, do the "greater part of the teaching, while Latin and history occupied his own attention". At some time prior to his Metropolis position, Ingersoll had also taught school in Mount Vernon, Illinois.
Ingersoll was married, February 13, 1862, to Eva Amelia Parker (1841–1923). They had two daughters. The elder daughter, Eva Ingersoll-Brown, was a renowned feminist and suffragist.
With the beginning of the American Civil War, he raised the 11th Regiment Illinois Volunteer Cavalry of the Union Army and assumed command.
After the war, he served as Illinois Attorney General. He was a prominent member of the Republican Party and, though he never had an elected job, he was nonetheless an active participant in politics. According to Robert Nisbet, Ingersoll was a "staunch Republican."
Ingersoll died from congestive heart failure at the age of 65. Soon after his death, his brother-in-law, Clinton P. Farrell, collected copies of Ingersoll's speeches for publication. The 12-volume Dresden Editions kept interest in Ingersoll's ideas alive and preserved his speeches for future generations. Ingersoll's ashes are interred in Arlington National Cemetery.
Books by Robert Ingersoll