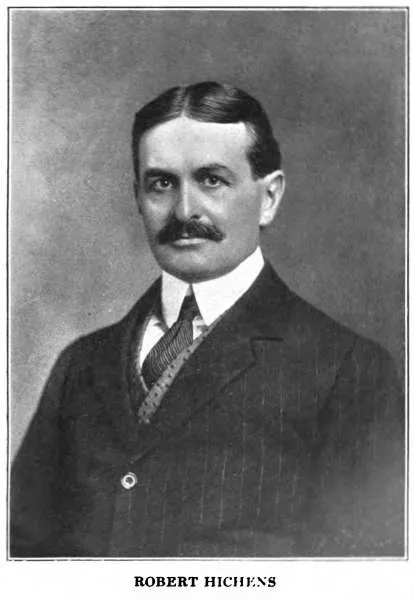 Timeline
Lifetime: 1864 - 1950 Passed: ≈ 73 years ago
Title
English Journalist, Novelist, Music Lyricist, Short Story Writer
Country/Nationality
Britain
Wikipedia
Smythe Hichens
Robert Hichens (Robert Smythe Hichens, 14 November 1864 – 20 July 1950) was an English journalist, novelist, music lyricist, short story writer, music critic and collaborated on successful plays. He is best remembered as a satirist of the "Naughty Nineties" .
Hichens's first big success was An Imaginative Man (1895); set in the city of Cairo, Egypt, a place which fascinated Hichens, it is a study of insanity, in which the hero has a number of sexual adventures and then smashes his head against the Great Sphinx. Other early fiction includes The Folly of Eustace (1896), a collection of stories including some supernatural; Flames (1897), a story resembling Dr Jekyll and Mr Hyde; The Londoners (1898), a satire about decadent London; The Slave (1899), a fantasy about an amazing emerald; Tongues of Conscience (1900), a collection of five horror stories including "How Love Came to Professor Guildea" (this story is about a supernatural visitation and is thought by some to be Hichens's best fiction – it is frequently anthologised)."How Love Came to Professor Guildea" was not initially well-received, with Frederic Taber Cooper calling the story "a hideous bit of morbidity" and Edmund Wilson dismissing the story as "trash". Later reviews of the story were more positive; J. A. Cuddon called it "outstanding" and compared it with "The Horla" by Guy de Maupassant and "The Beckoning Fair One" by Oliver Onions. Brian Stableford described the story as an "authentic masterpiece of horror fiction",and Jason Colavito called it "possibly one of the greatest stories of its age".
He died in Zurich, Switzerland, in 1950.
Books by Smythe Hichens The Spell of Egypt is a 1910 travel book by the British writer Robert Hichens. It was originally published in 1908 as Egypt and Its Monuments. Hichens was known for his orientalist writing, and Egypt was a setting for several of his novels.