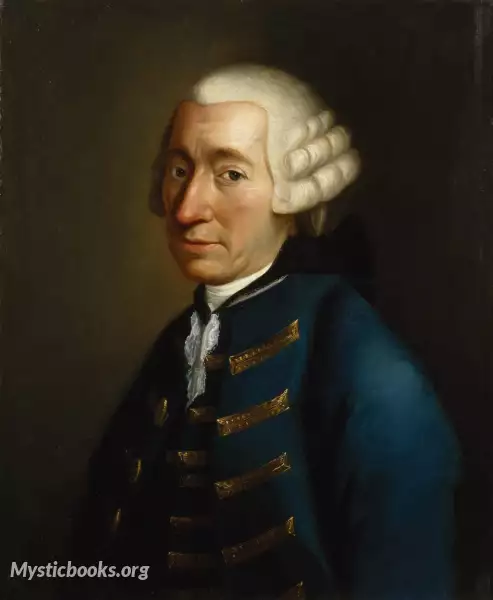 Tobias Smollett
Poet , Author
Country:

United Kingdom
Lifetime: 1721 - 1771 Passed: ≈ 251 years ago
Tobias George Smollett was a Scottish poet and author. He was best known for picaresque novels such as The Adventures of Roderick Random (1748), The Adventures of Peregrine Pickle (1751) and The Expedition of Humphry Clinker (1771), which influenced later novelists, including Charles Dickens. His novels were liberally altered by contemporary printers; an authoritative edition of each was edited by Dr O. M. Brack Jr and others.
Smollett was born at Dalquhurn, now part of Renton in present-day West Dunbartonshire, Scotland, and baptised on 19 March 1721. He was the fourth son of Archibald Smollett of Bonhill, a judge and landowner, laird of Bonhill , living at Dalquhurn on the River Leven, who died about 1726, when Smollett was just five years old. His mother Barbara Smollett née Cunningham brought the family up there, until she died about 1766. He had a brother, Captain James Smollett, and a sister, Jean Smollett, who married Alexander Telfair of Symington, Ayrshire. Jean succeeded to Bonhill after the death of her cousin-german, Mr Commissary Smollett, and resumed her maiden name of Smollett in 1780. They lived in St John Street off Canongate, Edinburgh, and had a son who was in the military.
Smollett attended Dumbarton Grammar School then was educated at the University of Glasgow, where he studied medicine and eventually qualified as a surgeon. Some biographers assert that he then proceeded to the University of Edinburgh, but left without earning a degree. Others state that his career in medicine came second to his literary ambitions at the age of 18, and it was not until 1750, that Smollett was granted his MD degree at the University of Aberdeen.
In 1739 he went to London having written a play The Regicide, about the murder of King James I of Scotland. Unsuccessful at getting this on stage, he obtained a commission as a naval surgeon on HMS Chichester and travelled to Jamaica, where he settled down for several years. In 1742 he served as a surgeon during the disastrous campaign to capture Cartagena. These experiences was later included in the narrative of his novels.
He married a wealthy Jamaican heiress, Anne "Nancy" Lascelles (1721–1791). She was a daughter of William Lascelles, but was unable to access her inheritance as it was invested in land and slaves. On their return to Britain, at the end of his Navy commission, Smollett established a practice in Downing Street but his wife did not join him until 1747; they had a daughter Elizabeth, who died aged 15 years about 1762. His two native languages were English and Scots. He translated famous works of the Enlightenment from other European languages.
Smollett's first published work in 1746, was a poem about the Battle of Culloden entitled "The Tears of Scotland", but it was The Adventures of Roderick Random, a semi-autobiogaphical story of a' north Britain on the make' which made his name. His poetry was described as "delicate, sweet and murmurs as a stream." The Adventures of Roderick Random was modelled on Le Sage's Gil Blas and despite its scandalous content covering 'snobbery, prostitution, debt and hinting at homosexuality', it was published in 1748. After that, Smollett finally had his tragedy The Regicide published, although it was never performed.
In 1750, he travelled to France, where he obtained material for his second novel, The Adventures of Peregrine Pickle, another success. Having lived for a brief time in Bath, he returned to London and published The Adventures of Ferdinand Count Fathom in 1753, but this did not sell well and he went into debt. His novels were published by the well-known London bookseller Andrew Millar. Smollett became considered as a 'man of letters' and associated with such figures as David Garrick, Laurence Sterne, Oliver Goldsmith, and Samuel Johnson, whom he famously nicknamed "that Great Cham of literature".
There is a monument to his memory beside Renton Primary School, Dunbartonshire, Scotland, on which there is a Latin inscription. The area around the monument was improved in 2002, with an explanatory plaque. After his death in Italy in 1771, his cousin Jane Smollett had the Renton monument built in 1774. It comprises a tall Tuscan column topped by an urn. On the plinth is a Latin inscription written by Professor George Stuart of Edinburgh, John Ramsay of Ochtertyre and Dr Samuel Johnson. It is a category A listed building.
There is also a plaque at his temporary residence in Edinburgh, just off the Royal Mile at the head of St John's Street, where his wife lived after his death until at least 1785. This states that he resided there in the house of his sister, Mrs. Telfer, for the summer of 1766. A second plaque (dating the building at 1758, making it relatively new at that time) states that he "stayed here occasionally," implying more than one visit.
Smollett is one of the 16 Scottish writers and poets depicted on the lower section of the Scott Monument in Princes Street, Edinburgh. He appears on the far left side of the east face. There are streets named after him in Nice, France and in Livorno, Italy, where he is buried.
Wikipedia

More info about author