 Timeline
Lifetime: 1866 - 1912 Passed: ≈ 111 years ago
Title
Anarchist
Country/Nationality
United States
Wikipedia
Voltairine de Cleyre
Voltairine de Cleyre was an American anarchist known for being a prolific writer and speaker who opposed capitalism, marriage and the state as well as the domination of religion over sexuality and women's lives which she saw as all interconnected. She is often characterized as a major early feminist because of her views.
Born and raised in small towns in Michigan and schooled in a Sarnia, Ontario, Catholic convent, de Cleyre began her activist career in the freethought movement. Although she was initially drawn to individualist anarchism, de Cleyre evolved through mutualism to what she called anarchism without adjectives, prioritizing a stateless society without the use of aggression or coercion above all else.
Born in the small town of Leslie, Michigan, she moved with her family to St. Johns, Michigan, where she lived with her unhappily married parents in extreme poverty. Her father Hector Auguste de Cleyre named her after the famed French Enlightenment author Voltaire.
At age 12, her father placed her in a Catholic convent school in Sarnia, Ontario, because he thought it would give her a better education than the public schools. This experience resulted in her embracing atheism rather than Christianity. Of her time spent there, she said "it had been like the Valley of the Shadow of Death, and there are white scars on my soul, where ignorance and superstition burnt me with their hell fire in those stifling days". She tried to run away by swimming across the St. Clair River to Port Huron, Michigan and hiking 17 miles (27 km), but she met friends of her family. They contacted her father and sent her back to the convent.
Family ties to the abolitionist movement and the Underground Railroad, the harsh and unrelenting poverty of her childhood and being named after the philosopher Voltaire, all contributed to the radical rhetoric that she developed shortly after adolescence. After schooling in the convent, de Cleyre moved to Grand Rapids, Michigan. She got involved in the strongly anti-clerical freethought movement by lecturing and contributing articles to freethought periodicals, eventually becoming the editor of freethought newspaper.
De Cleyre was a prominent American anarchist. One of the few women of stature in the anarchist movement, she was acclaimed by Emma Goldman as "the most gifted and brilliant anarchist woman America ever produced". She is not widely known today, which biographer Sharon Presley attributes to the shortness of her life.
Since the late 20th century, there has been renewed interest in her: An American Anarchist: The Life of Voltairine de Cleyre, written by Paul Avrich, was published by the Princeton University Press in 1978. A collection of her speeches, The First Mayday: The Haymarket Speeches, 1895–1910, was published by the Libertarian Book Club in 1980. In 2004, AK Press released The Voltairine de Cleyre Reader. In 2005, two more collections of her speeches and articles were published, namely Exquisite Rebel: The Essays of Voltairine De Cleyre – Anarchist, Feminist, Genius, edited by Presley and Crispin Sartwell and published by SUNY Press; and Gates of Freedom: Voltairine De Cleyre and the Revolution of the Mind, from University of Michigan Press. Her papers are held at the YIVO Institute for Jewish Research in New York City. In 2018, The New York Times published a belated obituary for her.
Books by Voltairine de Cleyre Essay
Murder
Philosophical
Socialism
America
Modern
Literary Collections
Communism
United States
Chicago in the 1880s was a deadly place. In an era before modern medicine or sanitation, the large immigrant populations sustained themselves by working the most dangerous jobs. Workplace accidents were exceedingly common, and death at work a regular... Short Stories
Poems
America
Letters
United States
Speeches
Sketches
Voltairine de Cleyre was an American anarchist. She was skilled in many subjects and wrote essays, poems, letters, sketches, stories and speeches. These are her selected letters, sketches and stories.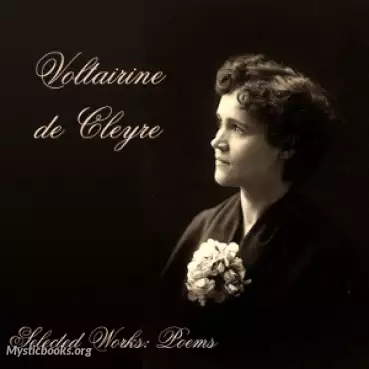 Essay
Poems
America
Letters
United States
Sketches
Voltairine de Cleyre was an activist, anarchist, feminist, and protagonist of woman's liberation, her works here highlight varying issues related to society's institutional confines mainly to women of her time. The forward also presents a brief histo...