 Timeline
Lifetime: 1760 - 1844 Passed: ≈ 179 years ago
Title
Novelist
Country/Nationality
United States
Wikipedia
William Beckford
William Thomas Beckford was an English novelist. He was also an art collector and patron of works of decorative art, a critic, travel writer, plantation owner and sometime politician, reputed at one stage to be the richest commoner in England. The son of William Beckford and Maria Hamilton, daughter of the Hon. George Hamilton, he served as a Member of Parliament for Wells in 1784–1790 and Hindon in 1790–1795 and 1806–1820. He is remembered for the Gothic novel Vathek (1786), for building the lost Fonthill Abbey in Wiltshire and Lansdown Tower ("Beckford's Tower") in Bath, and above all for his art collection.
Beckford was born on 1 October 1760 in the family's London home at 22 Soho Square. At the age of ten, he inherited a fortune from his father William Beckford, who had been twice a Lord Mayor of London, consisting of £1 million in cash, an estate at Fonthill in Wiltshire (including the Palladian mansion, Fonthill Splendens), and several sugar plantations in Jamaica. Among the wealth the young Beckford inherited from his father were about 3,000 black slaves.
This fortune allowed him to indulge his interest in art and architecture, as well as writing. He was briefly trained in music by Wolfgang Amadeus Mozart, but his drawing master, Alexander Cozens, was a greater influence, and Beckford continued to correspond with him for some years until they fell out.
On 5 May 1783 Beckford married Lady Margaret Gordon, a daughter of the fourth Earl of Aboyne. However, he was bisexual and after 1784 chose self-exile from British society when his letters to William Courtenay, later 9th Earl of Devon, were intercepted by the boy's uncle, who advertised the affair in the newspapers. Courtenay was just ten years old on first meeting Beckford, who was eight years older. Beckford was discovered (according to a house guest at the time) to be "whipping Courtenay in some posture or another" after finding a letter penned by Courtenay to another lover. Although Beckford was never punished for child molestation, fornication or attempted buggery, he subsequently chose self-exile to the continent with his long-suffering wife, who died in childbirth aged 24.
For many years Beckford was believed to have conducted a simultaneous affair with his cousin Peter's wife Louisa Pitt .
Beckford was a compulsive and restless collector, who also frequently sold works, sometimes later repurchasing them. His collection was notable for its many Italian Quattrocento paintings, then little collected and relatively inexpensive. Despite his interest in Romantic medievalism, he owned few medieval works, though many from the Renaissance. He was also interested in showy Asian objects such as Mughal hardstone carvings. Although he avoided the classical marbles typically sought by well-educated English collectors, much of his collection was of 18th-century French furniture and decorative arts, then priced enormously high compared with paintings, by modern standards. He bought a single Turner in 1800, when the artist was only in 1828 William Blake's drawings for Gray's Elegy, and several works by Richard Parkes Bonington, but in general he preferred older works.
Books by William Beckford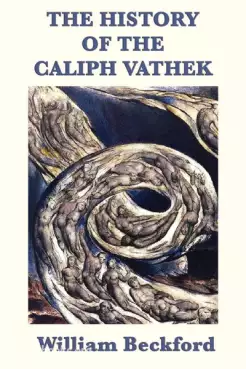 Gothic
Supernatural Fiction
General Fiction
This is one of the earliest Gothic novels. The Caliph Vathek is one of the wealthiest and most powerful men who ever lived. But this is not enough for him. He seeks also forbidden knowledge, and doesn't care who he has to hurt to get it. Aided by his...