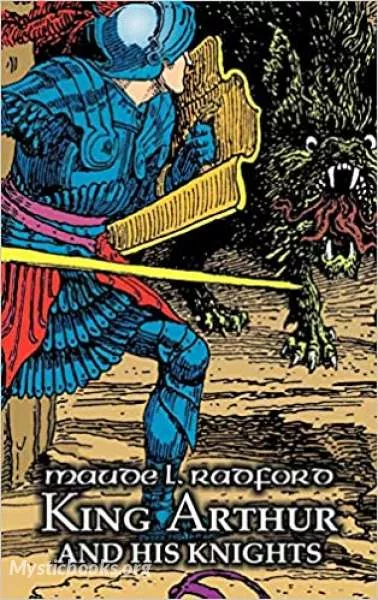 King Arthur and His Knights
Published in 1903, King Arthur and His Knights by Maude L. Radford is an easy to read version of the Arthurian legends, made simple and interesting for children. Maude Lavinia Radford Warren was a Canadian born American who taught literature and composition at the University of Chicago 1893-1907. Following the success of some of her books, she left teaching to take up writing as a full time career. She also served as a war correspondent for the New York Times magazine during WWI and contributed several remarkable features on the role of women in the conflict. Some of the books she wrote for adults like The White Flame of France are non-fiction accounts of her wartime experiences in Europe. Some of her other novels like Barbara's Marriages deal with social issues of the day. The book begins with the traditional childhood invocation so beloved of children all over the world, "Once upon a time..." and opens with the miraculous incident through which young Arthur realizes that he is the heir to the throne and the rightful owner of the fabulous sword, Excalibur. The rest of the chapters deal with several well-known stories connected with the legend of Camelot. How each one of the famous Knights of the Round Table arrives at Camelot, Arthur's marriage to Guinevere, the quest for the Holy Grail and finally, Arthur's poignant death at the hands of the evil Sir Mordred on the lake isle of Avalon and the final return of Excalibur to the depths of the lake are all dramatically presented.
'King Arthur and His Knights' Summary
King Arthur and His Knights is indeed a captivating read for children and makes a great read-aloud book for bedtime. For older children, it may perhaps spur them on to further research into this blend of fact and fiction, legend and myth, history and fable. The charming illustrations by Walter J. Enright add to the book's appeal for children.
Maude L Radford wrote several other books for young readers, among them Robin Hood and his Merry Men, Mother Hubbard's Wonderful Cupboard, Mother Goose and Her Friends, Peter-Peter, Adventures in the Old Woman's Shoe and many more, making her one of the best loved writers of children's books in the late nineteenth and early twentieth century. Though most of her works are forgotten today, her books are sure to capture childhood imagination and are told in a simple, easy to grasp style.
Book Details
Author
Maude Radford Warren was a Canadian author of children's literature and short fiction. Warren was born in 1875 in Wolfe Island, Ontario. She was a war correspondent for the Saturday Evening Post. S...
More on Maude L. Radford
Download eBooks
Listen/Download Audiobook
Reviews for
King Arthur and His Knights
No reviews posted or approved, yet...