 Lord of the World
Lord of the World is a 1907 dystopian science fiction novel by Monsignor Robert Hugh Benson that centres upon the reign of the Antichrist and the end of the world. It has been called prophetic by Dale Ahlquist, Joseph Pearce, Pope Benedict XVI and Pope Francis.
'Lord of the World' Summary
In early 21st century London, two priests, the white-haired Father Percy Franklin and the younger Father John Francis, are visiting the subterranean lodgings of the elderly Mr. Templeton. A Catholic and former Conservative Member of Parliament who witnessed the marginalization of his religion and the destruction of his party, Mr. Templeton describes to the two priests the last century of British and world history.
Since the Labour Party took control of the British Government in 1917, the British Empire has been a single party state. The British Royal Family has been deposed, the House of Lords has been abolished, Oxford and Cambridge universities have been closed down, and all their professors sent into internal exile in Ireland. Marxism, atheism, and secular humanism, which Templeton describes as the tools of Freemasonry, dominate culture and politics. The Anglican Communion has been disestablished since 1929 and, like all forms of Protestantism, is almost extinct. The world now has only three main religious forces: Catholicism, secular humanism, and "the Eastern religions".
Nationalism has been destroyed by Marxist internationalism and the world has been divided into three power-blocs. The first, which is generally marked in red on maps, is a European Confederation of Marxist one-party states and their colonies in Africa that use Esperanto for a world language. The second, marked in yellow, is "the Eastern Empire", whose Emperor, the "Son of Heaven", descends from the Japanese and Chinese Imperial Families. The third, the blue marked, "the American Republic", consists of North and South America.
In a move that almost toppled Marxism in the Confederation during the 1970s and '80s, the Eastern Empire invaded, annexed, and now rules India, Australia, and New Zealand, as well as all of Russia east of the Ural Mountains. For this and other reasons, Mr. Templeton explains, the Confederation and the Eastern Empire are now on the brink of a global war.
After Mr. Templeton completes his story, Fathers Franklin and Francis return to their spartan apartments at Westminster Cathedral.
Book Details
Original Language
English
Genre/Category
Tags/Keywords
Author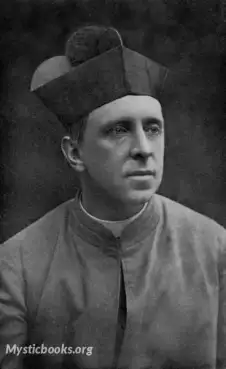 Robert Hugh Benson was an English Anglican priest who in 1903 was received into the Roman Catholic Church in which he was ordained priest in 1904. He was a prolific writer of fiction and wrote the not...
More on Robert Hugh Benson
Download eBooks
Listen/Download Audiobook
Reviews for
Lord of the World
No reviews posted or approved, yet...