 The Journey of Alvar Nunez Cabeza de Vaca
Cabeza de Vaca, along with three other survivors, two Spaniards and a North African (Estévanico, a black slave) endured incredible hardships. Cabeza da Vaca was, himself, at first enslaved by the Indians, forced to dig roots with his bare hands for food. However, he soon showed powers of adaptation that allowed him to survive. He became a trader, bartering "seashells and cockles" from the coast for hides, red ochre, flint, and deer hair tassels from the inland tribes. "Trade suited me well," he writes, "because it gave me liberty to go where I pleased." The Indians "rejoiced greatly when seeing me and I would bring them what they needed, and those who did not know me would desire and endeavor to meet me for sake of my fame." Cabeza de Vaca's "fame" soon grew to include a reputation as a healer. In return for his "cures," the Indians gave him "all that they had," which included food, often in perilously short supply.
'The Journey of Alvar Nunez Cabeza de Vaca ' Summary
The success of the survivors' final overland treck in search of Spanish settlement reflected their comprehension of Indian customs and values. They were passed along from one tribe to another, accompanied by an ontourage of friendly natives. At each stop, Cabeza de Vaca saw to it that the food and presents he received were distributed to his followers by their chiefs, thus ensuring their loyalty.
After eight years among the Indians, Cabeza de Vaca had a hard time adjusting to "civilization." He writes that the Spanish governor in Mexico "received us very well, giving us what he had, for us to dress in; but for many days I could bear no clothing, nor could we sleep except on the bare floor." His first person narrative is an exciting tale of survival "against the odds."
Book Details
Original Language
Spanish
Genre/Category
Tags/Keywords
Author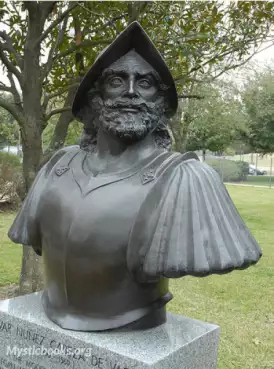 Álvar Núñez Cabeza de Vaca was a Spanish explorer of the New World, and one of four survivors of the 1527 Narváez expedition. During eight years of traveling across what is...
More on Alvar Cabeza de Vaca
Download eBooks
Listen/Download Audiobook
Reviews for
The Journey of Alvar Nunez Cabeza de Vaca
No reviews posted or approved, yet...