 Unidentified Flying Objects
by United States Federal Bureau of Investigation (FBI)
An unidentified flying object (UFO) is any perceived aerial phenomenon that cannot immediately be identified or explained. Most UFOs are identified or investigated as conventional objects or phenomena. The phrase was coined as an acronym by Project Blue Book project head Edward J. Ruppelt, but today UFO is widely used as a stand-in for extraterrestrial spacecraft-aircraft that people claim to have observed. Many UFOs are described as being flying saucers, as is shown in the image to the right.
'Unidentified Flying Objects' Summary
Through the U.S. Freedom of Information Act (FOIA) this series of communications has been de-classified and made public. Most names have been omitted, however much information of the sightings of UFOs in 1947 can be gleaned from these communications which were primarily between the FBI and other U.S. Government and military organizations.

It should be noted that the U.S. Air Force only became a separate entity in 1947, having split from the U.S. Army at that time. And they became very busy times for the fledgling military organization. The slant of this de-classified material is chiefly written communications between the FBI and the military machine in 1947. Correspondence herein spans July and August of 1947 which will forever remain as the beginning of serious first-hand UFO experience in the annals of history.
Book Details
Original Language
English
Genre/Category
Tags/Keywords
Author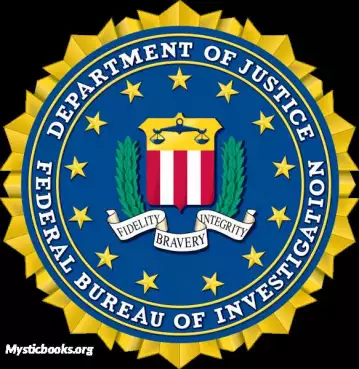 The Federal Bureau of Investigation (FBI) is the domestic intelligence and security service of the United States and its principal federal law enforcement agency. Op...
More on United States Federal Bureau of Investigation (FBI)
Download eBooks
Listen/Download Audiobook
Reviews for
Unidentified Flying Objects
No reviews posted or approved, yet...