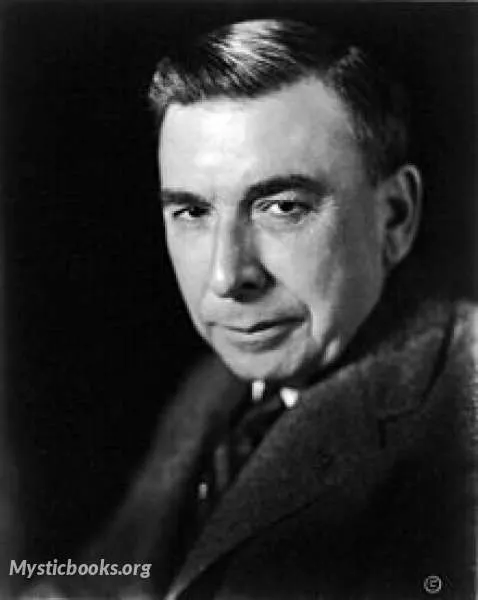 Booth Tarkington
Novelist, Dramatist
Country:

United States
Lifetime: 1869 - 1946 Passed: ≈ 76 years ago
Newton Booth Tarkington was an American novelist and dramatist best known for his novels The Magnificent Ambersons (1918) and Alice Adams (1921). He is one of only four novelists to win the Pulitzer Prize for Fiction more than once, along with William Faulkner, John Updike, and Colson Whitehead. In the 1910s and 1920s he was considered America's greatest living author. Several of his stories were adapted to film. During the first quarter of the 20th century, Tarkington, along with Meredith Nicholson, George Ade, and James Whitcomb Riley helped to create a Golden Age of literature in Indiana.
Booth Tarkington served one term in the Indiana House of Representatives, was critical of the advent of automobiles, and set many of his stories in the Midwest. He eventually removed to Kennebunkport, Maine, where he continued his life work even as he suffered a loss of vision.
Booth Tarkington was born in Indianapolis, Indiana, the son of John S. Tarkington and Elizabeth Booth Tarkington. He was named after his maternal uncle Newton Booth, then the governor of California. He was also related to Chicago Mayor James Hutchinson Woodworth through Woodworth's wife Almyra Booth Woodworth.
Tarkington attended Shortridge High School in Indianapolis, and completed his secondary education at Phillips Exeter Academy, a boarding school on the East Coast. He attended Purdue University for two years, where he was a member of the Sigma Chi Fraternity and the university's Morley Eating Club. He later made substantial donations to Purdue for building an all-men's residence hall, which the university named Tarkington Hall in his honor. Purdue awarded him an honorary doctorate.
Some of his family's wealth returned after the Panic of 1873, and his mother transferred Booth from Purdue to Princeton University. At Princeton, Tarkington is said to have been known as "Tark" among the members of the Ivy Club, the first of Princeton's historic Eating Clubs He had also been in a short-lived eating club called "Ye Plug and Ulster," which became Colonial Club. He was active as an actor and served as president of Princeton's Dramatic Association, which later became the Triangle Club, of which he was a founding member according to Triangle's official history.
In his adult life, he was twice asked to return to Princeton for the conferral of honorary degrees, an A.M. in 1899 and a Litt.D. in 1918. Tarkington is the only alumnus to have been awarded more than one honorary degree by Princeton University.
While Tarkington never earned a college degree, he was accorded many awards recognizing and honoring his skills and accomplishments as an author. He won the Pulitzer Prize in fiction twice, in 1919 and 1922, for his novels The Magnificent Ambersons and Alice Adams. In 1921 booksellers rated him "the most significant contemporary American author" in a poll conducted by Publishers' Weekly. He won the O. Henry Memorial Award in 1931 for his short story "Cider of Normandy". His works appeared frequently on best sellers lists throughout his life. In addition to his honorary doctorate from Purdue, and his honorary masters and doctorate from Princeton, Tarkington was awarded an honorary doctorate from Columbia University, the administrator of the Pulitzer Prize, and several other universities.
Many aspects of Tarkington's Princeton years and adult life were paralleled by the later life of another writer, fellow Princetonian F. Scott Fitzgerald.
Tarkington was married to Louisa Fletcher from 1902 until their divorce in 1911. Their only child, Laurel, was born in 1906 and died in 1923. He married Susanah Keifer Robinson in 1912. They had no children.
Tarkington began losing his eyesight in the 1920s. He continued producing his works by dictating to a secretary. Despite his failing eyesight, between 1928 and 1940 he edited several historical novels by his Kennebunkport, Maine, neighbor Kenneth Roberts, who described Tarkington as a "co-author" of his later books and dedicated three of them (Rabble in Arms, Northwest Passage, and Oliver Wiswell) to him.
Tarkington underwent eye surgery in February 1929. In August 1930, he suffered a complete loss in his eyesight and was rushed from Maine to Baltimore for surgery on his right eye. He had an additional two operations in the latter half of 1930. In 1931, after five months of blindness, he underwent a fifth and final operation. The surgery resulted in a significant restoration in Tarkington's eyesight. However, his physical energy was diminished for the remainder of his life.
Tarkington maintained a home in his native Indiana at 4270 North Meridian in Indianapolis. From 1923 until his death, Tarkington spent summers and then much of his later life in Kennebunkport at his much-loved home, Seawood. In Kennebunkport he was well known as a sailor, and his schooner, the Regina, survived him. Regina was moored next to Tarkington's boathouse, The Floats which he also used as his studio. His extensively renovated studio is now the Kennebunkport Maritime Museum. It was from his home in Maine that he and his wife Susannah established their relation with nearby Colby College.
Tarkington made a gift of some his papers to Princeton University, his alma mater, and his wife Susannah, who survived him by over 20 years, made a separate gift of his remaining papers to Colby College after his death. Purdue University's library holds many of his works in its Special Collection's Indiana Collection. Indianapolis commemorates his impact on literature and the theatre, and his contributions as a Midwesterner and "son of Indiana" in its Booth Tarkington Civic Theatre. He is buried in Crown Hill Cemetery in Indianapolis.
Wikipedia

More info about author