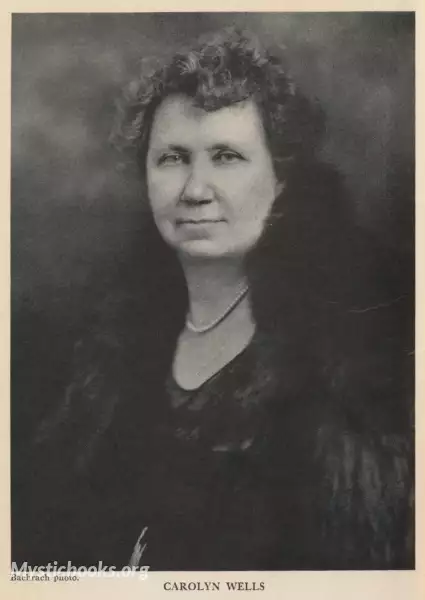 Timeline
Lifetime: 1862 - 1942 Passed: ≈ 81 years ago
Title
Writer , Poet
Country/Nationality
United States
Wikipedia
Carolyn Wells
Carolyn Wells was an American writer and poet.
Born in Rahway, New Jersey, she was the daughter of William E. and Anna Wells.
After finishing school she worked as a librarian for the Rahway Library Association. Her first book, At the Sign of the Sphinx , was a collection of literary charades. Her next publications were The Jingle Book and The Story of Betty , followed by a book of verse entitled Idle Idyls . After 1900, Wells wrote numerous novels and collections of poetry.
Carolyn Wells wrote a total 170 books. During the first ten years of her career, she concentrated on poetry, humor, and children's books. According to her autobiography, The Rest of My Life , she heard That Affair Next Door , one of Anna Katharine Green's mystery novels, being read aloud and was immediately captivated by the unraveling of the puzzle. From that point onward she devoted herself to the mystery genre. Among the most famous of her mystery novels were the Fleming Stone Detective Stories which—according to Allen J. Hubin's Crime Fiction IV: A Comprehensive Bibliography, 1749–2000 (2003)—number 61 titles. Wells's The Clue is on the Haycraft-Queen Cornerstone list of essential mysteries. She was also the first to conduct a (brief, in this case) annual series devoted to the best short crime fiction of the previous year in the U.S., beginning with The Best American Mystery Stories of the Year .
In addition to books, Wells also wrote for newspapers. Her poetry accompanies the work of some of the leading lights in illustration and cartooning, often in the form of Sunday magazine cover features that formed continuing narratives from week to week. Her first known illustrated newspaper work is a two part series titled Animal Alphabet, illustrated by William F. Marriner, which appeared in the Sunday comics section of the New York World. Many additional series ensued over the years, including the bizarre classic Adventures of Lovely Lilly .The last series she penned was Flossy Frills Helps Out which appeared after her death.
She died at the Flower Fifth Avenue Hospital in New York City in 1942.
Wells had been married to Hadwin Houghton, the heir of the Houghton-Mifflin publishing empire founded by H.O.Houghton. Wells also had an impressive collection of volumes of poetry by others. She bequeathed her collection of Walt Whitman poetry, said to be one of the most important of its kind for its completeness and rarity, to the Library of Congress.