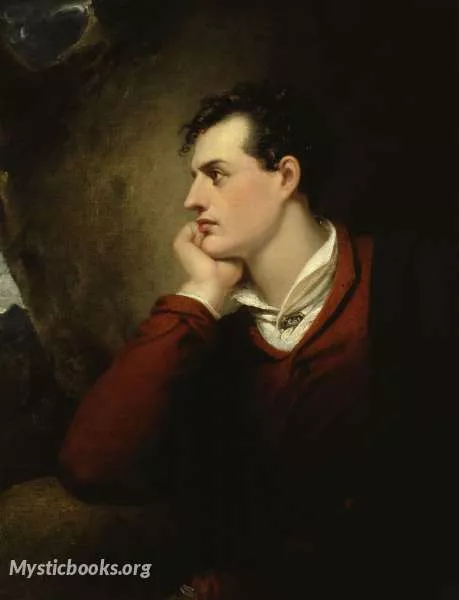 Timeline
Lifetime: 1788 - 1824 Passed: ≈ 199 years ago
Title
English Peer, Poet, Politician
Country/Nationality
England, Ottoman Empire, Turkey
Wikipedia
George Gordon Byron, Lord
George Gordon Byron, 6th Baron Byron, known simply as Lord Byron, was an English peer, who was a poet and politician. He was one of the leading figures of the Romantic Movement and is regarded as one of the greatest English poets. He remains widely read and influential. Among his best-known works are the lengthy narrative poems Don Juan and Childe Harold's Pilgrimage; many of his shorter lyrics in Hebrew Melodies also became popular.
He travelled extensively across Europe, especially in Italy, where he lived for seven years in the cities of Venice, Ravenna, and Pisa. During his stay in Italy he frequently visited his friend and fellow poet Percy Bysshe Shelley.
His only marital child, Ada Lovelace, is regarded as a foundational figure in the field of computer programming based on her notes for Charles Babbage's Analytical Engine. Byron's extramarital children include Allegra Byron, who died in childhood, and possibly Elizabeth Medora Leigh, daughter of his half-sister Augusta Leigh.
George Gordon Byron was born on 22 January 1788, on Holles Street in London – his birthplace is now supposedly occupied by a branch of the departmental store John Lewis.
Byron was the only child of Captain John Byron (known as 'Jack') and his second wife Catherine Gordon, heiress of the Gight estate in Aberdeenshire, Scotland. Byron's paternal grandparents were Vice-Admiral John Byron and Sophia Trevanion. Having survived a shipwreck as a teenage midshipman, Vice Admiral John Byron set a new speed record for circumnavigating the globe. After he became embroiled in a tempestuous voyage during the American Revolutionary War, John was nicknamed 'Foul-Weather Jack' Byron by the press. In short, George Gordon Byron had an interesting family.
Byron received his early formal education at Aberdeen Grammar School, and in August 1799 entered the school of Dr. William Glennie, in Dulwich. Placed under the care of a Dr. Bailey, he was encouraged to exercise in moderation but could not restrain himself from "violent" bouts in an attempt to overcompensate for his deformed foot. His mother interfered with his studies, often withdrawing him from school, with the result that he lacked discipline and his classical studies were neglected.
Lord Byron's Philosophy
Lord Byron's philosophy revolved around the idea of the individual's pursuit of personal freedom and the rejection of societal constraints. He believed in the power of emotions and embraced the idea of living life to the fullest, often indulging in excesses and leading a scandalous personal life. His libertine persona and unconventional lifestyle made him a controversial and intriguing figure of his time. Lord Byron was renowned for his progressive and radical principles, challenging societal norms and advocating for personal freedom. He expressed his beliefs through his poetry, often exploring themes of individualism, political liberty, and the pursuit of passion. Byron's works were infused with a sense of longing, melancholy, and a fascination with the supernatural.
One of Lord Byron's most famous works is the narrative poem "Childe Harold's Pilgrimage," which propelled him to literary fame. This epic poem follows the journey of a young man named Harold as he explores various European landscapes, contemplating life, love, and the human condition. The poem resonated with readers, capturing the essence of the Romantic era with its evocative imagery and emotional depth.
Lord Byron's Death
In 1801, he was sent to Harrow, where he remained until July 1805. An undistinguished student and an unskilled cricketer, he did represent the school during the very first Eton v Harrow cricket match at Lord's in 1805.
Mavrokordatos and Byron planned to attack the Turkish-held fortress of Lepanto, at the mouth of the Gulf of Corinth. Byron employed a fire-master to prepare artillery, and he took part of the rebel army under his own command, despite his lack of military experience. Before the expedition could sail, on 15 February 1824, he fell ill, and bloodletting weakened him further. He made a partial recovery, but in early April he caught a violent cold, which therapeutic bleeding, insisted on by his doctors, aggravated. This treatment, carried out with unsterilized medical instruments, may have caused him to develop sepsis. He contracted a violent fever and sadly, Lord Byron's life was cut short.
He died at the age of 36 on April 19, 1824 in Missolonghi, while fighting for Greek independence during the Greek War of Independence. Byron's dedication to the cause of Greek freedom made him a hero in Greece, and he is remembered as a national poet and a significant figure in Greek history.
George Gordon Byron's Legacy
Lord Byron's legacy endures through his influential poetry and his contribution to the Romantic movement. His poems continue to inspire readers with their vivid imagery, emotional intensity, and exploration of profound human emotions. Byron's larger-than-life persona and his ability to craft captivating narratives have left an indelible mark on the literary world.
Conclusion
In conclusion, Lord Byron was a trailblazing poet who defied societal conventions, advocated for personal freedom, and left a lasting impact on English literature. His principles, notable works like "Childe Harold's Pilgrimage" and "Don Juan," and his rebellious spirit continue to captivate readers to this day. Lord Byron's philosophy, untimely death, and his legacy as a national hero in Greece further cement his place as a literary icon, remembered for his extraordinary contributions to the world of poetry.
Books by George Gordon Byron, Lord