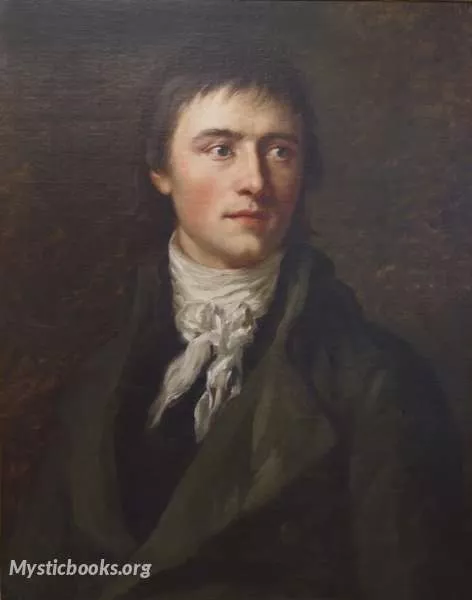 Heinrich von Kleist
Poet, Dramatist, Novelist, Short Story Writer
Country:

Germany
Lifetime: 1777 - 1811 Passed: ≈ 211 years ago
Bernd Heinrich Wilhelm von Kleist was a German poet, dramatist, novelist, short story writer and journalist. His best known works are the theatre plays Das Käthchen von Heilbronn, The Broken Jug, Amphitryon, Penthesilea and the novellas Michael Kohlhaas and The Marquise of O. Kleist committed suicide together with a close female friend who was terminally ill.
The Kleist Prize, a prestigious prize for German literature, is named after him, as was the Kleist Theater in his birthplace Frankfurt an der Oder.
Kleist's work also delved into the realm of rhetoric. Most notable for his use of error and understanding its importance, Kleist's devices used were misspeaking, misunderstanding, mistaken identities, and other confusions of the sort. In his works one can see the most prevalent use of rhetoric within Penthesilea. In the story moments of violence, seduction and war all hinge upon errors in language. Through these errors, Kleist shows how error can influence everyday situation and can be the causation of serious problems. As a sum, Kleist's use of error explores what one can make of ironic errors within speech.
Kleist was born into the von Kleist family in Frankfurt an der Oder in the Margraviate of Brandenburg. After a scanty education, he entered the Prussian Army in 1792, served in the Rhine campaign of 1796, and retired from the service in 1799 with the rank of lieutenant. He studied law and philosophy at the Viadrina University and in 1800 received a subordinate post in the Ministry of Finance at Berlin.
In the following year, Kleist's roving, restless spirit got the better of him, and procuring a lengthened leave of absence he visited Paris and then settled in Switzerland. There he found congenial friends in Heinrich Zschokke and Ludwig Wieland (1777–1819), son of the poet Christoph Martin Wieland; and to them he read his first drama, a gloomy tragedy, The Schroffenstein Family (1803).
In the autumn of 1802, Kleist returned to Germany; he visited Goethe, Schiller, and Wieland in Weimar, stayed for a while in Leipzig and Dresden, again proceeded to Paris, and returning in 1804 to his post in Berlin was transferred to the Domänenkammer (department for the administration of crown lands) at Königsberg. On a journey to Dresden in 1807, Kleist was arrested by the French as a spy; he remained a close prisoner of France in the Fort de Joux. On regaining his liberty, he proceeded to Dresden, where, in conjunction with Adam Heinrich Müller (1779–1829), he published the journal Phöbus in 1808.
Kleist met Henriette Vogel in 1809 through his friend Adam Müller and a friendship flourished between them. They shared a fondness for music, and according to Ernest Peguilhen, Henriette Vogel asked her friend to explain to her the art of war, as well as to teach her fencing, for the dramatist had been a soldier. The relationship between the two became more intimate in the autumn of 1811. According to their contemporaries, there was no fire of passion but a purely spiritual love. That was the point of view of Adam Müller, who in fact had been in love with Henriette for a while. His cousin Marie von Kleist, who was the most important sponsor and confidant of Heinrich von Kleist, also made sure that this claim was widely spread. (According to the autopsy report, she was suffering from (at the time) incurable uterine cancer).
On November 21, 1811, the two traveled from Berlin to Wannsee. Prior to their departure, they both penned farewell letters, which along with an account of the final night they spent at the inn Gasthof Stimming, are now part of world literature. Upon their arrival in the vicinity of the Wannsee in Potsdam, Kleist first shot Henriette and then turned the gun on himself. They were buried together in a common grave at Kleine Wannsee (Bismarckstrasse), which has become a tourist attraction. It was redesigned by the time of the bicentenary of their deaths. On that occasion direct access from Wannsee station to the grave was built. The gravestone, erected by the Nazis in 1936, was turned round and now shows engraved original text written by Max Ring and the Pater Noster's request: "forgive us our guilt" as well as the names and data of Henriette Vogel and Heinrich von Kleist.
Wikipedia

More info about author