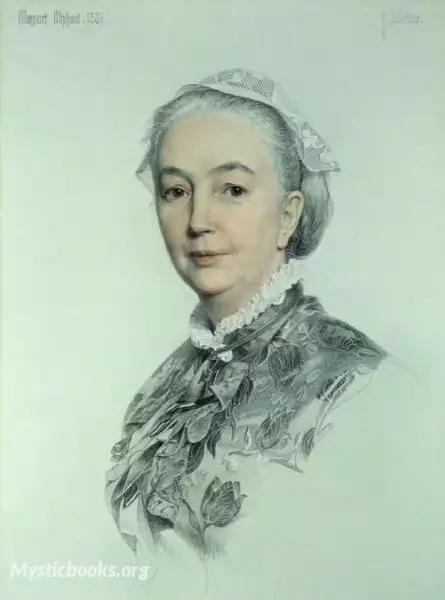 Timeline
Lifetime: 1828 - 1897 Passed: ≈ 126 years ago
Title
Novelist, Writer
Country/Nationality
Scotland
Wikipedia
Margaret O. Oliphant
Margaret Oliphant Wilson Oliphant was a Scottish novelist and historical writer, who usually wrote as Mrs. Oliphant. Her fictional works cover "domestic realism, the historical novel and tales of the supernatural".
Margaret was born at Wallyford, near Musselburgh, East Lothian, as the only daughter and youngest surviving child of Margaret Oliphant (c. 1789 – 17 September 1854) and Francis W. Wilson (c. 1788–1858), a clerk. She spent her childhood at Lasswade, Glasgow and Liverpool. A street, Oliphant Gardens in Wallyford, is named after her. As a girl, she continually experimented with writing. She had her first novel published, Passages in the Life of Mrs. Margaret Maitland, in 1849. This dealt with the relatively successful Scottish Free Church movement, with which her parents sympathised. Next came Caleb Field in 1851, the year she met the publisher William Blackwood in Edinburgh and was invited to contribute to Blackwood's Magazine – a tie that continued for her lifetime and covered over 100 articles, including a critique of the character of Arthur Dimmesdale in Nathaniel Hawthorne's The Scarlet Letter.
In May 1852, Margaret married her cousin, Frank Wilson Oliphant, at Birkenhead and settled at Harrington Square, now in Camden, London. Her husband was an artist working mainly in stained glass. Three of their six children died in infancy. Her husband developed tuberculosis and for his health they moved in January 1859 to Florence and then to Rome, where he died. This left Oliphant almost bereft. She returned to England and took up literature to support her three surviving children.
She had become a popular writer by then and worked notably hard to sustain her position. Unfortunately, her home life was full of sorrow and disappointment. In January 1864 her one remaining daughter Maggie died in Rome and was buried in her father's grave. Her brother, who had emigrated to Canada, was shortly afterwards involved in financial ruin. Oliphant offered a home to him and his children, adding their support to already heavy responsibilities.
In 1866 she settled at Windsor to be near her sons, who were attending Eton. That year, her second cousin, Annie Louisa Walker, came to live with her as a companion-housekeeper. Windsor was her home for the rest of her life. Over more than 30 years she pursued a varied literary career, but personal troubles continued. Her ambitions for her sons remained unfulfilled. Cyril Francis, the elder, died in 1890, leaving a Life of Alfred de Musset, incorporated in his mother's Foreign Classics for English Readers. The younger, Francis (whom she called "Cecco"), collaborated with her in the Victorian Age of English Literature and won a position at the British Museum, but was rejected by Sir Andrew Clark, a famous physician. He died in 1894. With the last of her children lost to her, she had little further interest in life. Her health steadily declined and she died at Wimbledon on 20 June 1897. She was buried in Eton beside her sons. She left a personal estate worth a gross £4,932 and a net value £804.
In the 1880s Oliphant acted as literary mentor of the Irish novelist Emily Lawless. During that time, Oliphant wrote several works of supernatural fiction, including a long ghost story A Beleaguered City (1880) and several short tales, including "The Open Door" and "Old Lady Mary". Oliphant also wrote historical fiction. Magdalen Hepburn (1854) is set during the Scottish Reformation, and features Mary, Queen of Scots and John Knox as characters.
Books by Margaret O. Oliphant