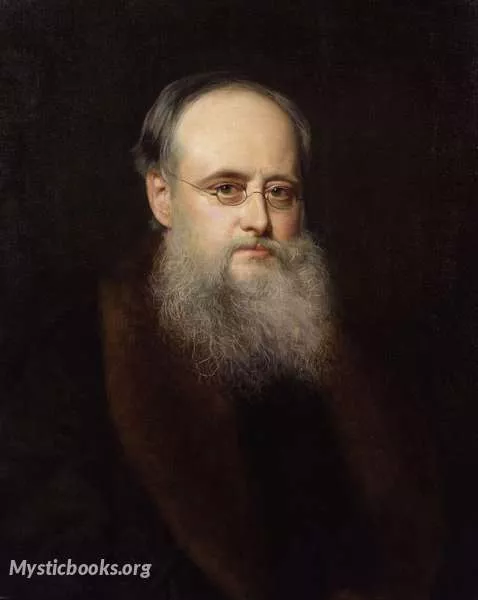 Timeline
Lifetime: 1824 - 1889 Passed: ≈ 133 years ago
Title
English Novelist
Country/Nationality
London
Wikipedia
Wilkie Collins
William Wilkie Collins was an English novelist and playwright known for The Woman in White (1859), and for The Moonstone (1868), which has been called the first modern English detective novel. Born to the London painter William Collins and his wife, the family moved to Italy when Collins was twelve, living there and in France for two years, which allowed the author to learn Italian and French. He worked initially as a tea merchant. After publishing Antonina, his first novel, in 1850, Collins met Charles Dickens, who became a friend and mentor. Some Collins works first appeared in Dickens's journals Household Words and All the Year Round. The two also collaborated on drama and fiction. Collins gained financial stability and an international following by the 1860s, but began to suffer from gout. He took opium for the pain, but became addicted to it. His health and his writing quality then declined in the 1870s and 1880s. Collins was critical of the institution of marriage: he split his time between widow Caroline Graves – living with her for most of his adult life, treating her daughter as his – and the younger Martha Rudd, by whom he had three children.
Collins was born at 11 New Cavendish Street, Marylebone, London, the son of William Collins, a well-known Royal Academician landscape painter, and his wife, Harriet Geddes. Named after his father, he was soon known by his middle name, which honoured his godfather, David Wilkie. The family moved to Pond Street, Hampstead, in 1826. In 1828 Collins's brother Charles Allston Collins was born. Between 1829 and 1830, the Collins family moved twice, first to Hampstead Square and then to Porchester Terrace, Bayswater. Wilkie and Charles received their early education from their mother at home. The Collins family were deeply religious, and Collins's mother enforced strict church attendance on her sons, which Wilkie disliked.
An instrumental event in his career was an introduction in March 1851 to Charles Dickens by a mutual friend, through the painter Augustus Egg. They became lifelong friends and collaborators. In May of that year, Collins acted with Dickens in Edward Bulwer-Lytton's play Not So Bad As We Seem. Among the audience were Queen Victoria and Prince Albert. Collins's story "A Terribly Strange Bed," his first contribution to Dickens's journal Household Words, was published in April 1852. In May 1852 he went on tour with Dickens's company of amateur actors, again performing Not So Bad As We Seem, but with a more substantial role.
Collins died at 82 Wimpole Street, following a paralytic stroke. He is buried in Kensal Green Cemetery, West London. His headstone describes him as the author of The Woman in White. Caroline Graves died in 1895 and was buried with Collins. Martha Rudd died in 1919.