 Herodotus' Histories Vol 3
The Histories of Herodotus of Halicarnassus is considered the first work of history in Western literature. Written about 440 BC, the Histories tell the story of the war between the Persian Empire and the Greek city-states in the 5th century BC. Herodotus traveled extensively around the ancient world, conducting interviews and collecting stories for his book. The rise of the Persian Empire is chronicled, and the causes for the conflict with Greece. Herodotus treats the conflict as an ideological one, frequently contrasting the absolute power of the Persian king with the democratic government of the Greeks.
'Herodotus' Histories Vol 3' Summary
Book VIII (Urania)
Greek fleet is led by Eurybiades, a Spartan commander who led the Greek fleet after the meeting at the Isthmus 481 BC,
The destruction by storm of two hundred ships sent to block the Greeks from escaping
The retreat of the Greek fleet after word of a defeat at Thermopylae
The supernatural rescue of Delphi from a Persian attack
The evacuation of Athens assisted by the fleet
The reinforcement of the Greek fleet at Salamis Island, bringing the total ships to 378
The destruction of Athens by the Persian land force after difficulties with those who remained
The Battle of Salamis, the Greeks have the advantage due to better organization, and fewer losses due to ability to swim
The description of the Angarum, the Persian riding post
The rise in favor of Artemisia, the Persian woman commander, and her council to Xerxes in favor of returning to Persia
The vengeance of Hermotimus, Xerxes' chief eunuch, against Panionius
The attack on Andros by Themistocles, the Athenian fleet commander and most valiant Greek at Salamis
The escape of Xerxes and leaving behind of 300,000 picked troops under Mardonius in Thessaly
The ancestry of Alexander I of Macedon, including Perdiccas
The refusal of an attempt by Alexander to seek a Persian alliance with Athens
Books in 'Herodotus' Histories' series
Herodotus' Histories Vol 3 by Herodotus of Halicarnassus
Book Details
Original Language
Ancient Greek
Genre/Category
Tags/Keywords
Author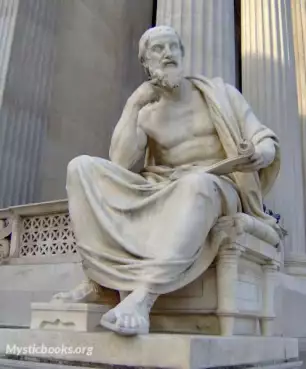 Herodotus was an ancient Greek writer and geographer who was born in the ancient Greek city of Halicarnassus, part of the former Persian Empire (now modern-day Bodrum, Turkey). Credited as being the...
More on Herodotus of Halicarnassus
Download eBooks
Listen/Download Audiobook
Reviews for
Herodotus' Histories Vol 3
ALL REVIEWS:
Really Favorable
(1)