 Salome
by Oscar Wilde
Salome is a one-act tragedy by Oscar Wilde. The original 1891 version of the play was in French; an English translation was published three years later. The play depicts the attempted seduction of Jokanaan (John the Baptist) by Salome, step-daughter of Herod Antipas; her dance of the seven veils; the execution of Jokanaan at Salome's instigation; and her death on Herod's orders.
'Salome' Summary
Jokanaan (John the Baptist, Iokanaan in the original French text) has been imprisoned by Herod Antipas in a cistern below the terrace of Herod's palace, for his hostile comments about Herodias, Herod's second wife. A young captain of the guard admires the beautiful princess Salome, Herod's stepdaughter. A page warns the captain that something terrible may happen if he continues to stare at the princess. Salome is fascinated by Jokanaan's voice. She persuades the captain to open the cistern so that the prophet can emerge, and she can see him and touch him. Jokanaan appears, denouncing Herodias and her husband. At first frightened by the sight of the holy man, Salome becomes fascinated by him, begging him to let her touch his hair, his skin and his lips. When she tells him she is Herodias's daughter, he calls her a "daughter of Sodom" and bids her keep away from him. All Salome's attempts to attract him fail, and he swears she will never kiss his mouth, cursing her as the daughter of an adulteress and advising her to seek the Lord. He returns to his underground confinement. The young captain of the guard, unable to bear Salome's desire for another man, fatally stabs himself.
Herod appears from the palace, looking for the princess and commenting on the strange look of the moon. When he slips in the captain's blood, he suddenly panics. Herodias dismisses his fears and asks him to go back inside with her, but Herod's attention has turned libidinously towards Salome, who rejects his advances. From the cistern, Jokanaan resumes his denunciation of Herodias; she demands that Herod hand the prophet over to the Jews. Herod refuses, maintaining that Jokanaan is a holy man and has seen God. His words spark an argument among the Jews concerning the true nature of God, and two Nazarenes talk about the miracles of Jesus. As Jokanaan continues to accuse her, Herodias demands that he is silenced.
Herod asks Salome to dance for him. She refuses, but when he promises to give her anything she wants, she agrees. Ignoring her mother's pleas – "Ne dansez pas, ma fille" – "Do not dance, my daughter" – Salome performs the dance of the seven veils. Delighted, Herod asks what reward she would like, and she asks for the head of Jokanaan on a silver platter. Horrified, Herod refuses, while Herodias rejoices at Salome's choice. Herod offers other rewards, but Salome insists and reminds Herod of his promise. He finally yields. The executioner descends into the cistern, and Salome impatiently awaits her reward. When the prophet's head is brought to her, she passionately addresses Jokanaan as if he were still alive and finally kisses his lips:
Ah! I have kissed thy mouth, Jokanaan, I have kissed thy mouth. There was a bitter taste on thy lips. Was it the taste of blood? ... But perchance it is the taste of love. ... They say that love hath a bitter taste. ... But what of that? what of that? I have kissed thy mouth, Jokanaan.
Herod, frightened and appalled at Salome's behaviour, orders the soldiers, "Tuez cette femme!" – "Kill that woman!", and they crush her to death under their shields.
Book Details
Author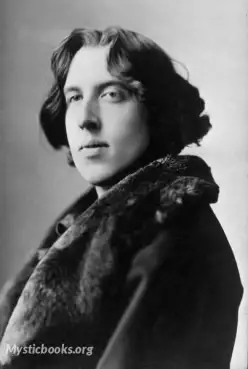 Oscar Fingal O'Flahertie Wills Wilde (16 October 1854 – 30 November 1900) was an Irish poet and playwright. After writing in different forms throughout the 1880s, the early 1890s saw him become...
More on Oscar Wilde
Download eBooks
Listen/Download Audiobook
No reviews posted or approved, yet...