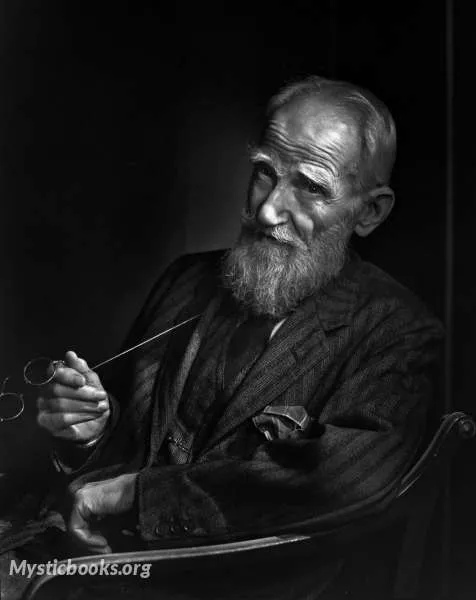 Timeline
Lifetime: 1856 - 1950 Passed: ≈ 72 years ago
Title
Playwright, Critic, Polemicist, Political activist
Country/Nationality
Ireland & England
Wikipedia
George Bernard Shaw
Born in Dublin, Shaw moved to London in 1876, where he struggled to establish himself as a writer and novelist, and embarked on a rigorous process of self-education. By the mid-1880s he had become a respected theatre and music critic. Following a political awakening, he joined the gradualist Fabian Society and became its most prominent pamphleteer. Shaw had been writing plays for years before his first public success, Arms and the Man in 1894. Influenced by Henrik Ibsen, he sought to introduce a new realism into English-language drama, using his plays as vehicles to disseminate his political, social and religious ideas. By the early twentieth century his reputation as a dramatist was secured with a series of critical and popular successes that included Major Barbara, The Doctor's Dilemma and Caesar and Cleopatra.
Shaw had long supported the principle of Irish Home Rule within the British Empire (which he thought should become the British Commonwealth). In the postwar period, Shaw despaired of the British government's coercive policies towards Ireland, and joined his fellow-writers Hilaire Belloc and G. K. Chesterton in publicly condemning these actions.
Shaw's enthusiasm for the Soviet Union dated to the early 1920s when he had hailed Lenin as "the one really interesting statesman in Europe". Having turned down several chances to visit, in 1931 he joined a party led by Nancy Astor. The carefully managed trip culminated in a lengthy meeting with Stalin, whom Shaw later described as "a Georgian gentleman" with no malice in him.
Shaw did not found a school of dramatists as such, but Crawford asserts that today "we recognise [him] as second only to Shakespeare in the British theatrical tradition ... the proponent of the theater of ideas" who struck a death-blow to 19th-century melodrama. According to Laurence, Shaw pioneered "intelligent" theatre, in which the audience was required to think, thereby paving the way for the new breeds of twentieth-century playwrights from Galsworthy to Pinter.
Books by George Bernard Shaw