 Arms and the man
It's 1885, and Raina's bourgeois Bulgarian family is caught up in the heady patriotism of their war with Serbia. The beautiful and headstrong Raina eagerly awaits her fiancé's victorious return from battle – but instead meets a soldier who seeks asylum in her bedroom. This is one soldier who definitely prefers romance and chocolate to fear and bullets. War may be raging on the battlefield, but it's the battle of the sexes that heats up this extraordinary comedy and offers very different notions of love and war.
'Arms and the man' Summary
The play takes place during the 1885 Serbo-Bulgarian War. Its heroine, Raina Petkoff, is a young Bulgarian woman engaged to Sergius Saranoff, one of the heroes of that war, whom she idolizes. On the night after the Battle of Slivnitza, a Swiss mercenary soldier in the Serbian army, Captain Bluntschli, climbs in through her bedroom balcony window and threatens to shoot Raina if she gives the alarm. When Russian and Bulgarian troops burst in to search the house for him, Raina hides him so that he won't be killed. He asks her to remember that "nine soldiers out of ten are born fools." In a conversation after the soldiers have left, Bluntschli's pragmatic and cynical attitude towards war and soldiering shocks the idealistic Raina, especially after he admits that he uses his ammunition pouches to carry chocolates rather than cartridges for his pistol. When the search dies down, Raina and her mother Catherine sneak Bluntschli out of the house, disguised in one of Raina's father's old coats.
Book Details
Original Language
English
Author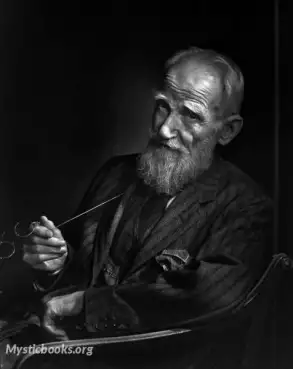 Born in Dublin, Shaw moved to London in 1876, where he struggled to establish himself as a writer and novelist, and embarked on a rigorous process of self-education. By the mid-1880s he had become a r...
More on George Bernard Shaw
Download eBooks
Listen/Download Audiobook
Reviews for
Arms and the man
No reviews posted or approved, yet...