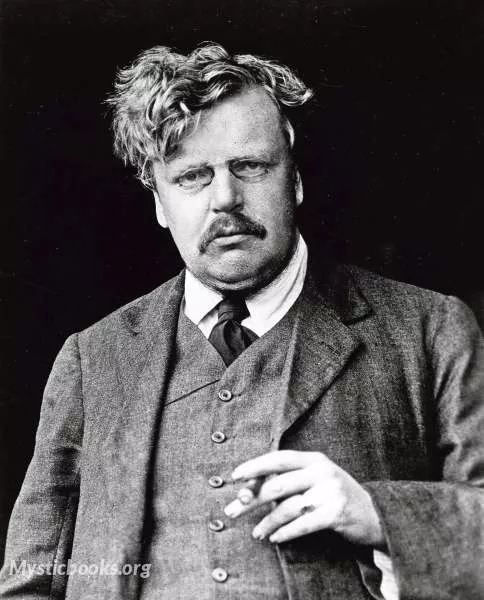 Timeline
Lifetime: 1874 - 1936 Passed: ≈ 87 years ago
Title
Journalist, novelist, essayist, poet
Country/Nationality
England
Wikipedia
Gilbert K. Chesterton
Chesterton wrote around 80 books, several hundred poems, some 200 short stories, 4,000 essays (mostly newspaper columns), and several plays. He was a literary and social critic, historian, playwright, novelist, Catholic theologian.
Gilbert Keith Chesterton (29 May 1874 – 14 June 1936) was an English writer, philosopher, lay theologian, and literary and art critic. He has been referred to as the "prince of paradox".
Time magazine observed of his writing style:
"Whenever possible Chesterton made his points with popular sayings, proverbs, allegories—first carefully turning them inside out."
Chesterton died of congestive heart failure on 14 June 1936, at his home in Beaconsfield, Buckinghamshire. The sermon at Chesterton's Requiem Mass in Westminster Cathedral, London, was delivered by Ronald Knox on 27 June 1936. Knox said, "All of this generation has grown up under Chesterton's influence so completely that we do not even know when we are thinking Chesterton." He is buried in Beaconsfield in the Catholic Cemetery. Chesterton's estate was probated at £28,389, equivalent to £1,943,135 in 2019.
Near the end of Chesterton's life, Pope Pius XI invested him as Knight Commander with Star of the Papal Order of St. Gregory the Great. The Chesterton Society has proposed that he be beatified. He is remembered liturgically on 13 June by the Episcopal Church, with a provisional feast day as adopted at the 2009 General Convention.
Books by Gilbert K. Chesterton
Showing 1 to 24 of 38 results