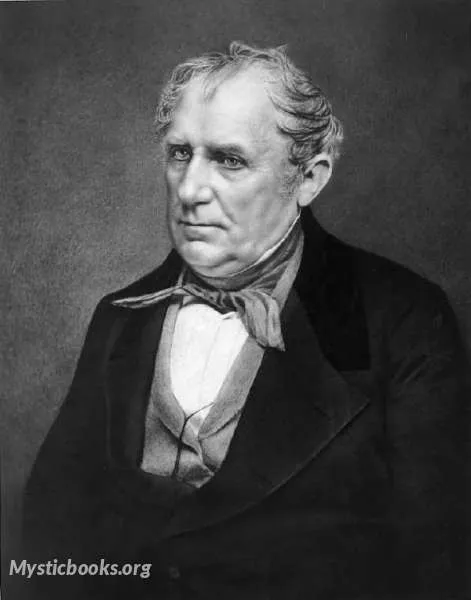 Timeline
Lifetime: 1789 - 1851 Passed: ≈ 172 years ago
Title
Author
Country/Nationality
United States
Wikipedia
James Fenimore Cooper
James Fenimore Cooper was an American writer of the first half of the 19th century. His historical romances depicting frontier and Native American life from the 17th to the 19th centuries created a unique form of American literature. He lived much of his boyhood and the last fifteen years of life in Cooperstown, New York, which was founded by his father William Cooper on property that he owned. Cooper became a member of the Episcopal Church shortly before his death and contributed generously to it. He attended Yale University for three years, where he was a member of the Linonian Society.
After a stint on a commercial voyage, Cooper served in the U.S. Navy as a midshipman, where he learned the technology of managing sailing vessels which greatly influenced many of his novels and other writings. The novel that launched his career was The Spy, a tale about espionage set during the American Revolutionary War and published in 1821. He also created American sea stories. His best-known works are five historical novels of the frontier period, written between 1823 and 1841, known as the Leatherstocking Tales, which introduced the iconic American frontier scout, Natty Bumppo. Cooper's works on the U.S. Navy have been well received among naval historians, but they were sometimes criticized by his contemporaries. Among his most famous works is the romantic novel The Last of the Mohicans, often regarded as his masterpiece. Throughout his career, he published numerous social, political, and historical works of fiction and non-fiction with the objective of countering European prejudices and nurturing an original American art and culture.
James Fenimore Cooper was born in Burlington, New Jersey, in 1789 to William Cooper and Elizabeth (Fenimore) Cooper, the eleventh of 12 children, half of whom died during infancy or childhood.
In 1806 at the age of 17, Cooper joined the crew of the merchant ship Sterling as a common sailor. At the time, the Sterling was commanded by young John Johnston from Maine. Cooper served as a common seaman before the mast. His first voyage took some 40 stormy days at sea and brought him to an English market in Cowes where they sought information on where best to unload their cargo of flour. There Cooper saw his first glimpses of England. Britain was in the midst of war with Napoleon's France at the time, so their ship was immediately approached by a British man-of-war and was boarded by some of its crew. They seized one of the Sterling's best crew members and impressed him into the British Royal Navy. Cooper thus first encountered the power of his country's former colonial master, which led to a lifelong commitment to helping create an American art independent culturally as well as politically from the former mother country.
Cooper was one of the most popular 19th-century American authors, and his work was admired greatly throughout the world. While on his death bed, the Austrian composer Franz Schubert wanted most to read more of Cooper's novels. Honoré de Balzac, the French novelist and playwright, admired him greatly. Henry David Thoreau, while attending Harvard, incorporated some of Cooper's style in his own work. D. H. Lawrence believed that Turgenev, Tolstoy, Dostoyevsky, Maupassant, and Flaubert were all "so very obvious and coarse, besides the lovely, mature and sensitive art of Fennimore Cooper." Lawrence called The Deerslayer "one of the most beautiful and perfect books in the world: flawless as a jewel and of gem-like concentration."
Cooper spent the last years of his life back in Cooperstown. He died on September 14, 1851, the day before his 62nd birthday. He was buried in the Christ Episcopal Churchyard, where his father, William Cooper, was buried. Cooper's wife Susan survived her husband only by a few months and was buried by his side at Cooperstown.
Books by James Fenimore Cooper