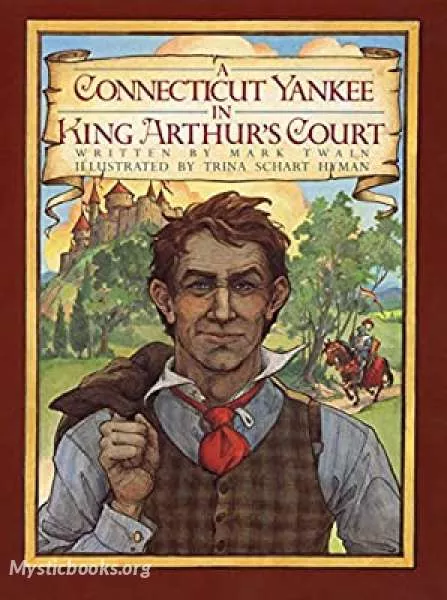 A Connecticut Yankee in King Arthur's Court is an 1889 novel by American humourist and writer Mark Twain. The book was originally titled A Yankee in King Arthur's Court. Some early editions are titled A Yankee at the Court of King Arthur. In the book, a Yankee engineer from Connecticut named Hank Morgan receives a severe blow to the head and is somehow transported in time and space to England during the reign of King Arthur. After some initial confusion and his capture by one of Arthur's knights, Hank realizes that he is actually in the past, and he uses his knowledge to make people believe that he is a powerful magician. He attempts to modernize the past in order to make people's lives better, but in the end he is unable to prevent the death of Arthur and an interdict against him by the Catholic Church of the time, which grows fearful of his power.
The novel is a comedy set in 6th-century England and its medieval culture through Hank Morgan's view; he is a 19th-century resident of Hartford, Connecticut, who, after a blow to the head, awakens to find himself inexplicably transported back in time to early medieval England where he meets King Arthur himself. Hank, who had an image of that time that had been coloured over the years by romantic myths, takes on the task of analysing the problems and sharing his knowledge from 1300 years in the future to try to modernize, Americanize, and improve the lives of the people.
Many passages are quoted directly from Sir Thomas Malory's Le Morte d'Arthur, a late medieval collection of Arthurian legends that constitutes one of the main sources on the myth of King Arthur and Camelot. The frame narrator is a 19th-century man (ostensibly Mark Twain himself) who meets Hank Morgan in modern times and begins reading Hank's book in the museum in which they both meet. Later, characters in the story retell parts of it in Malory's original language. A chapter on medieval hermits also draws from the work of William Edward Hartpole Lecky.
Introduction to the "stranger"
The story begins as a first-person narrative in Warwick Castle, where a man details his recollection of a tale told to him by an "interested stranger" who is personified as a knight through his simple language and familiarity with ancient armour.
After a brief tale of Sir Lancelot of Camelot and his role in slaying two giants from the third-person narrative, taken directly from Le Morte d'Arthur, the man named Hank Morgan enters and, after being given whiskey by the narrator, he is persuaded to reveal more of his story. Described through first-person narrative as a man familiar with the firearms and machinery trade, Hank is a man who had reached the level of superintendent because of his proficiency in firearms manufacturing, with 2000 subordinates. He describes the beginning of his tale by illustrating details of a disagreement with his subordinates during which he sustained a head injury from a "crusher" to the head caused by a man named "Hercules" using a crowbar.
After passing out from the blow, Hank describes waking up underneath an oak tree in a rural area of Camelot, where he soon encounters the knight Sir Kay, riding by. Kay challenges him to a joust, which is quickly lost by the unweaponed, unarmored Hank as he scuttles up a tree. Kay captures Hank and leads him towards Camelot Castle. Upon recognizing that he has time-traveled to the 6th century, Hank realizes that he is the de facto smartest person on Earth, and with his knowledge he should soon be running things.
Hank is ridiculed at King Arthur's court for his strange appearance and dress and is sentenced by them, particularly the magician Merlin, to burn at the stake on 21 June. By a stroke of luck, the date of the burning coincides with a historical solar eclipse in 528 of which Hank had learned in his earlier life (however, NASA and other listings of solar eclipses show there in fact was no solar eclipse on that date). In prison, he sends the boy whom he christens Clarence (whose real name is Amyas le Poulet) to inform the king that he will blot out the sun if he is executed. Hank believes the current date to be 20 June; however, it is actually the 21st when he makes his threat, the day that the eclipse will occur at 12:03 p.m. When the King decides to burn him, the eclipse catches Hank by surprise. However, he quickly uses it to his advantage and convinces the people that he caused the eclipse. He makes a bargain with the king, is released, and becomes the second most powerful person in the kingdom. (Twain may have drawn inspiration for that part of the story from a historical incident in which Christopher Columbus exploited foreknowledge of a lunar eclipse.)
Hank is given the position of principal minister to the king and is treated by all with the utmost fear and awe. His celebrity brings him to be known by a new title, elected by the people, "The Boss".
However, he proclaims that his only income will be taken as a percentage of any increase in the kingdom's gross national product, which he succeeds in creating for the state as Arthur's chief minister, which King Arthur sees as fair. Although the people fear him and he has his new title, Hank is still seen as somewhat of an equal. The people might grovel to him if he were a knight or some form of nobility, but Hank faces problems from time to time since he refuses to seek to join such ranks.
Community Reviews for
A Connecticut Yankee in King Arthur's Court
No reviews posted or approved, yet...