 Not Under The Law
It is a captivating and inspiring book that takes readers on a journey of faith, love, and personal growth. This timeless work explores the themes of grace, redemption, and the power of following one's heart. In this enchanting novel, Hill weaves a tale of a young protagonist who finds herself torn between societal expectations and her own desires. The story unfolds against the backdrop of a world where rules and traditions dictate behavior, but the protagonist discovers that true freedom lies in embracing love and following her inner compass. Published by Grace Livingston Hill in the early 20th century, "Not Under The Law" showcases the author's signature storytelling style, filled with rich descriptions, relatable characters, and thought-provoking themes. The book encourages readers, especially young ones, to question societal norms and find the courage to live authentically. Throughout the narrative, Hill explores the importance of faith, highlighting the transformative power of grace and forgiveness. She delves into the complexities of relationships, the pursuit of personal dreams, and the rewards of choosing love over conformity. "Not Under The Law" is an engaging and uplifting read for young readers, offering a blend of romance, suspense, and moral lessons. It invites readers to reflect on their own beliefs, values, and the importance of making choices based on their inner convictions. This book by Grace Livingston Hill holds relevance for contemporary readers as it addresses timeless themes of self-discovery, the power of love, and the freedom that comes from living an authentic life. It serves as a reminder that sometimes, breaking free from societal expectations can lead to a deeper understanding of oneself and a more fulfilling existence.
'Not Under The Law' Summary
"Not Under The Law" by Grace Livingston Hill is a captivating and heartwarming novel that explores the themes of love, faith, and the power of personal conviction. Written by renowned author Grace Livingston Hill, this timeless work takes readers on a journey of self-discovery and the pursuit of true happiness.
In this enchanting story, Hill introduces us to a young protagonist who finds herself trapped in a world bound by strict societal rules and expectations. Faced with the pressure to conform, she grapples with her own desires and the yearning for a life filled with love and authenticity.
The narrative unfolds with Hill's signature storytelling style, drawing readers into a world where choices are not always easy but ultimately lead to personal growth and fulfillment. As readers delve deeper into the pages, they are immersed in a tale of courage, resilience, and the transformative power of embracing one's true self.
Grace Livingston Hill's masterful prose paints vivid portraits of relatable characters, each with their own dreams, fears, and struggles. Through their experiences, readers are reminded of the importance of staying true to one's values and following the path that aligns with their inner convictions.
"Not Under The Law" is a compelling exploration of the human spirit and the boundless capacity for love and forgiveness. Hill weaves together elements of romance, suspense, and moral dilemmas, creating a story that resonates with readers of all ages.
This book by Grace Livingston Hill remains relevant today, as it speaks to the universal longing for freedom, authenticity, and finding one's place in the world. It serves as a reminder that true happiness is often found when we have the courage to break free from societal expectations and live according to our own truth.
In conclusion, "Not Under The Law" is a captivating novel by Grace Livingston Hill that offers an engaging and uplifting reading experience. Through its memorable characters and timeless themes, the book encourages readers to embrace their individuality, follow their hearts, and discover the transformative power of love and faith
Book Details
Original Language
English
Author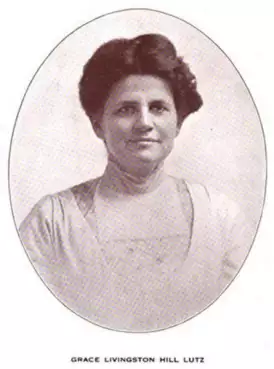 Grace Livingston Hill was an early 20th-century novelist and wrote both under her real name and the pseudonym Marcia Macdonald. She wrote over 100 novels and numerous short stories. Her characters wer...
More on Grace Livingston Hill
Download eBooks
Listen/Download Audiobook
Reviews for
Not Under The Law
No reviews posted or approved, yet...