 Paradise Lost
by John Milton
Magnificent in its scale and scope, this monumental poem by the blind poet John Milton was the first epic conceived in the English language. It describes an omniscient, all powerful God, the Fall of Man, the Temptation in the Garden of Eden, the disgraced angel who later becomes known as Satan, the Angelic Wars fought by Archangels Michael and Raphael and the Son of God who is the real hero of this saga. The poet John Milton was more than sixty years old when he embarked on this immense work of literary creation. His father was a wealthy merchant who had embraced Protestantism despite opposition from his Catholic family. Milton grew up in a privileged environment, having been schooled at home by private tutors and traveling extensively throughout Italy. It was here that he first read Virgil and Homer and decided to create his own epic in English. Tumultuous historical events intervened, like the English Civil War and the establishment of Puritan Rule. Milton was deeply embroiled in politics and the new parliament. When the monarchy was restored, Milton found himself on the wrong side and he retreated into hiding where he began working on his dream of creating an epic to match the best in Latin and Greek. He completed it after five years of tremendous effort, since he was already totally blind when he began working. The entire work, consisting of nearly ten thousand individual lines of blank verse was dictated by Milton from memory, to a series of scribes. Paradise Lost consists of twelve smaller volumes divided into Books. Each one is devoted to a particular Biblical episode. It begins with a prologue that describes the subject of the epic, much like an introduction. The action shifts to the rebellion of Lucifer and from then on, to familiar episodes like the temptation of Adam and Eve and their disobedience to God's laws. Satan and his unholy legions are described in great detail as are their rebellion and malevolence. Adam and Eve, God and the Son of God are portrayed in brilliant, unforgettable lines and the conflict between the forces of good and evil is represented on a cosmic scale. For lovers of poetry and literature, Paradise Lost represents a seminal work of supreme importance in English literature. Present-day readers will certainly find it fascinating to decode the multitude of classical references, Biblical lore, social and cultural themes that adorn this great work.
'Paradise Lost' Summary
Satan
Satan, formerly called Lucifer, is the first major character introduced in the poem. He was once the most beautiful of all angels, and is a tragic figure who famously declares: "Better to reign in Hell than serve in Heaven"
Adam
Adam is the first human created by God. Adam requests a companion from God:
Of fellowship I speak
Such as I seek, fit to participate
all rational delight, wherein the brute
cannot be human consort.
Eve
Eve is the second human created by God. God takes one of Adam's ribs and shapes it into Eve.
The Son of God
The Son of God is the spirit who will become incarnate as Jesus Christ, though he is never named explicitly because he has not yet entered human form. Milton believed in a subordinationist doctrine of Christology that regarded the Son as secondary to the Father and as God's "great Vice-regent"
God the Father
God the Father is the creator of Heaven, Hell, the world, of everyone and everything there is, through the agency of His Son.
Raphael
Raphael is an affable archangel whom God sends to Eden:
half this day as friend with friend
Converse with Adam, [...]
and such discourse bring on,
As may advise him of his happie state,
Happiness in his power left free to will,
Left to his own free Will, his Will though free,
Yet mutable; whence warne him to beware
He swerve not too secure: tell him withall
His danger, and from whom, what enemie
Late falln himself from Heav'n, is plotting now
The fall of others from like state of bliss;
By violence, no, for that shall be withstood,
But by deceit and lies; this let him know,
Lest wilfully transgressing he pretend
Surprisal, unadmonisht, unforewarnd.
Michael
Michael is an archangel who is preeminent in military prowess. He leads in battle and uses a sword which was "giv'n him temperd so, that neither keen / Nor solid might resist that edge" (6.322-23).
God sends Michael to Eden, charging him:
from the Paradise of God
Without remorse drive out the sinful Pair
From hallowd ground th' unholie, and denounce
To them and to thir Progenie from thence
Perpetual banishment. [...]
If patiently thy bidding they obey,
Dismiss them not disconsolate; reveale
To Adam what shall come in future dayes,
As I shall thee enlighten, intermix
My Cov'nant in the womans seed renewd;
So send them forth, though sorrowing, yet in peace.
Book Details
Author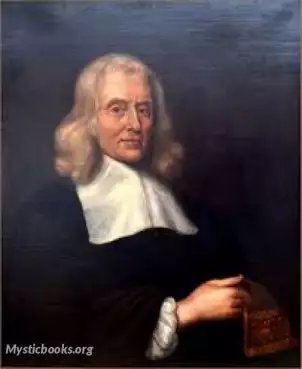 John Milton was an English poet and intellectual who served as a civil servant for the Commonwealth of England under its Council of State and later under Oliver Cromwell. He wrote at a time of religio...
More on John Milton
Download eBooks
Listen/Download Audiobook
Reviews for
Paradise Lost
No reviews posted or approved, yet...