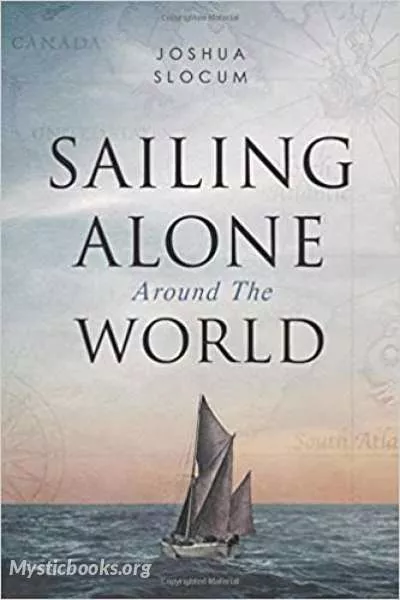 Sailing Alone Around the World
A sailing memoir written by seaman and adventurer Joshua Slocum, who was the first person to sail around the world alone, documents his epic solo circumnavigation. An international best-seller, the book became a great influence and inspiration to travelers from each corner of the globe. Additionally, Slocum is an example that through determination, courage and hard work any dream can easily become a reality. Written in a modern and conversational tone, the autobiographical account begins with Slocum's description of his hometown of Nova Scotia and its maritime history. He illustrates the town as a maritime province of Canada, where many vessels have been carved and built from widespread spruce commonly found in the area. The author then goes on to tell of his dedication and hard work invested in rebuilding an old sloop which he subsequently named Spray. It was this tiny boat that accompanied Slocum on his monumental single-man voyage. The journey began in April 1895, when the adventurer set sail from Boston and traveled to various locations around the world, exploring the local nature, culture and meeting many interesting people along the way. The author recounts his experience through a sequence of adventures, most eminent being his encounter with pirates, an attack by indigenous locals and perilous occurrences at sea. Holding most appeal in the book is the fact that the voyage took place in a time without the comfort and security of modern technology, which only intensifies the excitement and emphasizes the true danger faced by Slocum in the many unpredictable situations he finds himself in. Apart from being an exceptional mariner, Slocum is an equally talented narrator, as he depicts events which are not only entertaining to read, but also hold great historical and cultural significance considering the time of his journey. Well written and engaging to the very last page, Sailing Alone Around the World is one of the finest examples of travel literature ever written.
'Sailing Alone Around the World' Summary
Slocum attracted considerable international interest by his journey, particularly once he had entered the Pacific. He was awaited at most of his ports of call, and gave lectures and lantern-slide shows to well-filled halls. His journal was first published in installments before being issued in book form in 1900. The book was lavishly illustrated.
Slocum tells his story as a sequence of adventures, understating his own part and giving credit always to the Spray. He invents a crew-member, a supposed pilot of Columbus' Pinta, to take credit for the safety of the vessel while he sleeps.
The trip itinerary was as follows: Fairhaven, Boston, Gloucester, Nova Scotia, Azores, Gibraltar, (Morocco), Canary Islands, Cape Verde Islands, Pernambuco, Rio de Janeiro, Maldonado, Montevideo, Buenos Aires, Strait of Magellan, Cockburn Channel, Port Angosto, Juan Fernandez, Marquesas, Samoa, Fiji, Sydney, Melbourne, Tasmania, Cooktown, Christmas Island, Keeling Cocos, Rodrigues, Mauritius, Durban, Cape Town, (Transvaal), St Helena, Ascension Island, Devil's Island, Trinidad, Grenada, Newport, Fairhaven.
Highlights of the journey included perils of sailing blue water, such as fog, gales, danger of collision, loneliness, doldrums, navigation, fatigue, gear failure. Other perils of coastal navigation included pirates, attack by 'savages', embayment, shoals and coral reefs, stranding, and shipwreck.
Passing by Tierra del Fuego, he was warned that he might be attacked by the indigenous Yahgan Indians in the night, so he sprinkled tacks on the deck. He was awakened in the middle of the night by yelps of pain. He was proud of resourcefully defending himself.
He devised a system of lashing the wheel into what a later era might call a kind of mechanical autopilot. He took pride in the fact that the Spray sailed 2000 miles west across the Pacific without his once touching the helm.
Book Details
Author
Joshua Slocum was the first person to sail single-handedly around the world. He was a Nova Scotian-born, naturalized American seaman and adventurer, and a noted writer. In 1900 he wrote a book about h...
More on Joshua Slocum
Download eBooks
Listen/Download Audiobook
Reviews for
Sailing Alone Around the World
No reviews posted or approved, yet...