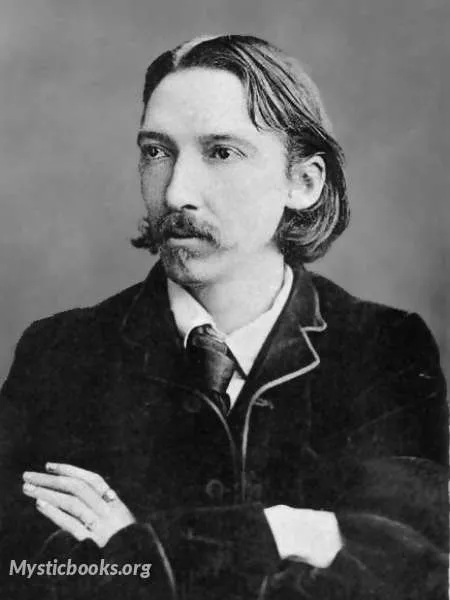 Timeline
Lifetime: 1850 - 1894 Passed: ≈ 129 years ago
Title
Novelist, Poet, Travel writer
Country/Nationality
Scotland
Wikipedia
Robert Louis Stevenson
Stevenson's critical essays on literature contain "few sustained analyses of style of content". In "A Penny Plain and Two-pence Coloured" (1884) he suggests that his own approach owed much to the exaggerated and romantic world that, as a child, he had entered as proud owner of Skelt's Juvenile Drama—a toy set of cardboard characters who were actors in melodramatic dramas. "A Gossip on Romance" (1882) and "A Gossip on a Novel of Dumas's" (1887) imply that it is better to entertain than to instruct.
Stevenson wrote an estimated 700,000 words during his years on Samoa. He completed The Beach of Falesá, the first-person tale of a Scottish copra trader on a South Sea island. Wiltshire is heroic in terms neither of his actions nor a preoccupation with his own soul. Rather he is a man of limited understanding and imagination, comfortable with his own prejudices: where, he wonders, can he find "whites" for his "half caste" daughters. The villains are white, their behaviour towards the islanders ruthlessly duplicitous.
Stevenson saw "The Beach of Falesá" as the ground-breaking work in his turn away from romance to realism. Stevenson wrote to his friend Sidney Colvin:
It is the first realistic South Seas story; I mean with real South Sea character and details of life. Everybody else that has tried, that I have seen, got carried away by the romance, and ended in a kind of sugar candy sham epic, and the whole effect was lost... Now I have got the smell and look of the thing a good deal. You will know more about the South Seas after you have read my little tale than if you had read a library.
The Ebb-Tide (1894), the misadventures of three deadbeats marooned in the Tahitian port of Papeete, has been described as presenting "a microcosm of imperialist society, directed by greedy but incompetent whites, the labour supplied by long-suffering natives who fulfil their duties without orders and are true to the missionary faith which the Europeans make no pretence of respecting". It confirmed the new Realistic turn in Stevenson's writing away from romance and adolescent adventure. The first sentence reads: "Throughout the island world of the Pacific, scattered men of many European races and from almost every grade of society carry activity and disseminate disease". No longer was Stevenson writing about human nature "in terms of a contest between Dr Jekyll and Mr Hyde": "the edges of moral responsibility and the margins of moral judgement were too blurred". As with The Beach of Falesà, in The Ebb Tide contemporary reviewers find parallels with several of Conrad's works: Almayer's Folly, An Outcast of the Islands, The Nigger of the 'Narcissus'', Heart of Darkness, Lord Jim.
With his imagination still residing in Scotland and returning to earlier form, Stevenson also wrote Catriona (1893), a sequel to his earlier novel Kidnapped (1886), continuing the adventures of its hero David Balfour.
Although he felt, as a writer, that "there was never any man had so many irons in the fire".by the end of 1893 Stevenson feared that he had "overworked" and exhausted his creative vein.His writing was partly driven by the need to meet the expenses of Vailima. But in a last burst of energy he began work on Weir of Hermiston. "It's so good that it frightens me," he is reported to have exclaimed. He felt that this was the best work he had done. Set in eighteenth century Scotland, it is a story of a society that (however different), like Samoa is witnessing a breakdown of social rules and structures leading to growing moral ambivalence
On 3 December 1894, Stevenson was talking to his wife and straining to open a bottle of wine when he suddenly exclaimed, "What's that?", asked his wife "does my face look strange?", and collapsed. He died within a few hours, probably of a cerebral haemorrhage. He was 44 years old. The Samoans insisted on surrounding his body with a watch-guard during the night and on bearing him on their shoulders to nearby Mount Vaea, where they buried him on a spot overlooking the sea on land donated by British Acting Vice Consul Thomas Trood Stevenson had always wanted his Requiem inscribed on his tomb:
Under the wide and starry sky,

Dig the grave and let me lie.

Glad did I live and gladly die,

And I laid me down with a will.

This be the verse you grave for me:

Here he lies where he longed to be;

Home is the sailor, home from sea,

And the hunter home from the hill.
Stevenson was loved by the Samoans, and his tombstone epigraph was translated to a Samoan song of grief.
Books by Robert Louis Stevenson