 The Golden Goose Book
The Book narrates the story of a family with three sons who reside in beginning of the forest. Their youngest son called Simpleton because unlike his brothers he is kind and helpful to all. The family needs fire wood. Their father sends the elder son to cut firewood. As he has to go far in the forest, his mother gives a cake and a bottle of wine. In the forest, he meets a short brown man who requests him to share his food with him. Elder son refuses to help. He is unable to cut the dry wooden tree because the chopper slips from his hand and cuts his arm.
'The Golden Goose Book ' Summary
Similar incident happens with the middle son. Now, the youngest son is sent with beer and dry bread. Simpleton shares his food with the short brown man. He points out to a tree. When the Simpleton cuts it, a golden goose is found from above the roots. Simpleton picked the golden goose and walked towards the city. Simpleton stays in an inn. He hides the goose in the barn. Innkeeper's three daughters try to steal the goose but their hands get cling to the goose. Early morning, Simpleton, golden goose and the clung 3 girls. On the way, the number of people clung to one another extends. When the reach the capital, they find that the Princess remains unsmiling and sad because there has been incident on which she can laugh. King had declared that whosoever makes her daughter laugh will be able to marry the Princess. When the Princess views people of different age, complexion walking in topsy -turby way, she laughs. By her laughter, the line of the walking people breaks. They all leave for their home. Simpleton claims that he should be allowed to marry the princess. King lays down two more conditions before the Simpleton for marriage. With the help of the short brown man, the Simpleton succeeds. King agrees to marry Princess with him. After marriage, Simpleton goes to the forest but he does not find the short brown man.
Book Details
Author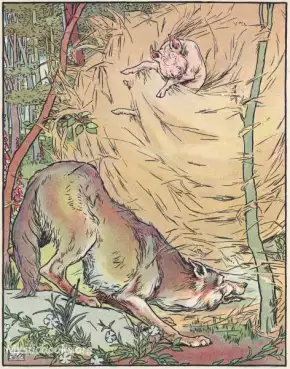 L. Leslie Brooke (1862-1940) was a renowned British author and illustrator best known for his charming and timeless children's books. With a career spanning several decades, Brooke left an indelible m...
More on L. Leslie Brooke
Download eBooks
Listen/Download Audiobook
Reviews for
The Golden Goose Book
No reviews posted or approved, yet...