 The Morals (Moralia), Book 1
by Plutarch
The Moralia is a group of manuscripts dating from the 10th-13th centuries, traditionally ascribed to the 1st-century Greek scholar Plutarch of Chaeronea. The eclectic collection contains 78 essays and transcribed speeches. They provide insights into Roman and Greek life, but often are also timeless observations in their own right. Many generations of Europeans have read or imitated them, including Michel de Montaigne and the Renaissance Humanists and Enlightenment philosophers.
'The Morals (Moralia), Book 1' Summary
The Moralia include On the Fortune or the Virtue of Alexander the Great, an important adjunct to his Life of the great general; On the Worship of Isis and Osiris, a crucial source of information on Egyptian religious rites; and On the Malice of Herodotus (which may, like the orations on Alexander's accomplishments, have been a rhetorical exercise), in which Plutarch criticizes what he sees as systematic bias in the Histories of Herodotus; along with more philosophical treatises, such as On the Decline of the Oracles, On the Delays of the Divine Vengeance, On Peace of Mind and lighter fare, such as Odysseus and Gryllus ("Bruta animalia ratione uti"), a humorous dialog between Homer's Odysseus and one of Circe's enchanted pigs. The Moralia were composed first, while writing the Lives occupied much of the last two decades of Plutarch's own life.
Some editions of the Moralia include several works now known to be pseudepigrapha. Among these are the Lives of the Ten Orators (biographies of the Attic orators based on Caecilius of Calacte), On the Opinions of the Philosophers, On Fate, and On Music. One "Pseudo-Plutarch" is held responsible for all of these works, though their authorship is unknown. Though the thoughts and opinions recorded are not Plutarch's and come from a slightly later era, they are all classical in origin and have value to the historian.
Books in 'The Morals (Moralia)' series
The Morals (Moralia), Book 1 by Plutarch
Book Details
Genre/Category
Tags/Keywords
Author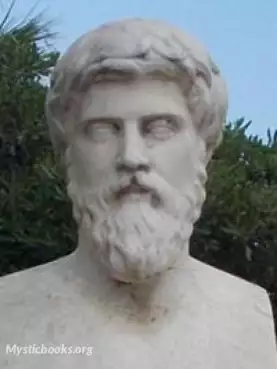 Plutarch was a Greek Middle Platonist philosopher, historian, biographer, essayist, and priest at the Temple of Apollo. He is known primarily for his Parallel Lives, a series of biographies of illustr...
More on Plutarch
Download eBooks
Listen/Download Audiobook
Reviews for
The Morals (Moralia), Book 1
No reviews posted or approved, yet...