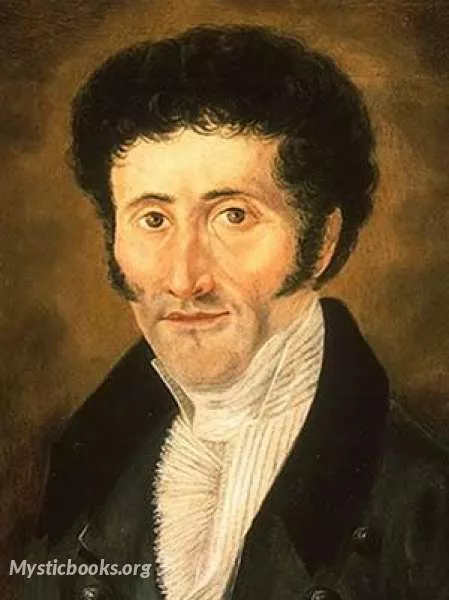 Timeline
Lifetime: 1776 - 1822 Passed: ≈ 201 years ago
Title
Jurist, Author, Composer, Music Critic, Artist
Country/Nationality
Prussia
Wikipedia
E. T. A. Hoffmann
Ernst Theodor Amadeus Hoffmann was a German Romantic author of fantasy and Gothic horror, a jurist, composer, music critic and artist. His stories form the basis of Jacques Offenbach's opera The Tales of Hoffmann, in which Hoffmann appears (heavily fictionalized) as the hero. He is also the author of the novella The Nutcracker and the Mouse King, on which Pyotr Ilyich Tchaikovsky's ballet The Nutcracker is based. The ballet Coppélia is based on two other stories that Hoffmann wrote, while Schumann's Kreisleriana is based on Hoffmann's character Johannes Kreisler. See also Schumann's Fantasiestücke, Op. 12.
Hoffmann's stories highly influenced 19th-century literature, and he is one of the major authors of the Romantic Movement.
Hoffmann's ancestors, both maternal and paternal, were jurists. His father, Christoph Ludwig Hoffmann (1736–97), was a barrister in Königsberg, Prussia (now Kaliningrad, Russia), as well as a poet and amateur musician who played the viola da gamba. In 1767 he married his cousin, Lovisa Albertina Doerffer (1748–96). Ernst Theodor Wilhelm, born on 24 January 1776, was the youngest of three children, of whom the second died in infancy.
From 1796, Hoffmann obtained employment as a clerk for his uncle, Johann Ludwig Doerffer, who lived in Glogau with his daughter Minna. After passing further examinations he visited Dresden, where he was amazed by the paintings in the gallery, particularly those of Correggio and Raphael. During the summer of 1798, his uncle was promoted to a court in Berlin, and the three of them moved there in August—Hoffmann's first residence in a large city. It was there that Hoffmann first attempted to promote himself as a composer, writing an operetta called Die Maske and sending a copy to Queen Luise of Prussia. The official reply advised to him to write to the director of the Royal Theatre, a man named Iffland. By the time the latter responded, Hoffmann had passed his third round of examinations and had already left for Posen (Poznań) in South Prussia in the company of his old friend Hippel, with a brief stop in Dresden to show him the gallery.
Hoffmann assimilated well with Polish society; the years spent in Prussian Poland he recognized as the happiest of his life. In Warsaw he found the same atmosphere he had enjoyed in Berlin, renewing his friendship with Zacharias Werner, and meeting his future biographer, a neighbour and fellow jurist called Julius Eduard Itzig (who changed his name to Hitzig after his baptism). Itzig had been a member of the Berlin literary group called the Nordstern, or "North Stars," and he gave Hoffmann the works of Novalis, Ludwig Tieck, Achim von Arnim, Clemens Brentano, Gotthilf Heinrich von Schubert, Carlo Gozzi and Calderón. These relatively late introductions marked his work profoundly.
The next fifteen months were some of the worst in Hoffmann's life. The city of Berlin was also occupied by Napoleon's troops. Obtaining only meagre allowances, he had frequent recourse to his friends, constantly borrowing money and still going hungry for days at a time; he learned that his daughter had died. Nevertheless, he managed to compose his Six Canticles for a cappella choir: one of his best compositions, which he would later attribute to Kreisler in Lebensansichten des Katers Murr.
Prussia had declared war against France on 16 March during the War of the Sixth Coalition, and their journey was fraught with difficulties. They arrived on the 25th, only to find that Seconda was in Leipzig; on the 26th, they sent a letter pleading for temporary funds. That same day Hoffmann was surprised to meet Hippel, whom he had not seen for nine years.
Hoffmann died of syphilis in Berlin on 25 June 1822 at the age of 46. His grave is preserved in the Protestant Friedhof III der Jerusalems- und Neuen Kirchengemeinde (Cemetery No. III of the congregations of Jerusalem Church and New Church) in Berlin-Kreuzberg, south of Hallesches Tor at the underground station Mehringdamm.
Books by E. T. A. Hoffmann