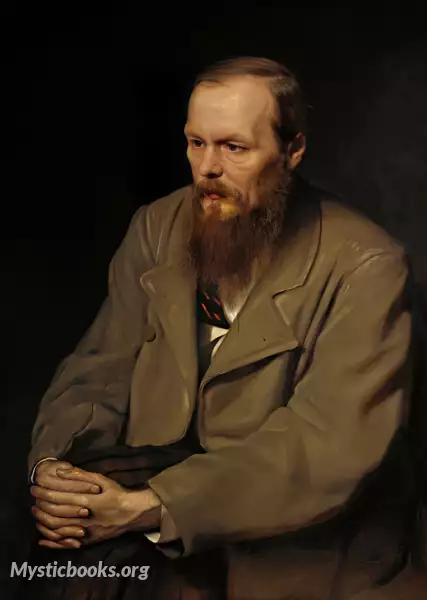 Timeline
Lifetime: 1821 - 1881 Passed: ≈ 142 years ago
Title
Military Engineer, Novelist, Journalist
Country/Nationality
Russia
Wikipedia
Fyodor Dostoyevsky
Fyodor Mikhailovich Dostoevsky, sometimes transliterated as Dostoyevsky, was a Russian novelist, philosopher, short story writer, essayist, and journalist. Dostoevsky's literary works explore human psychology in the troubled political, social, and spiritual atmospheres of 19th-century Russia, and engage with a variety of philosophical and religious themes. His most acclaimed works include Crime and Punishment (1866), The Idiot (1869), Demons (1872), and The Brothers Karamazov (1880). Dostoevsky's body of works consists of 12 novels, four novellas, 16 short stories, and numerous other works. Many literary critics rate him as one of the greatest psychological novelists in world literature. His 1864 novel Notes from Underground is considered to be one of the first works of existentialist literature.
His writings were widely read both within and beyond his native Russia and influenced an equally great number of later writers including Russians such as Aleksandr Solzhenitsyn and Anton Chekhov, philosophers Friedrich Nietzsche and Jean-Paul Sartre and the emergence of Existentialism and Freudianism. His books have been translated into more than 170 languages, and served as the basis for many films.
Born in Moscow in 1821, Dostoevsky was introduced to literature at an early age through fairy tales and legends, and through books by Russian and foreign authors. His mother died in 1837 when he was 15, and around the same time, he left school to enter the Nikolayev Military Engineering Institute. After graduating, he worked as an engineer and briefly enjoyed a lavish lifestyle, translating books to earn extra money. In the mid-1840s he wrote his first novel, Poor Folk, which gained him entry into Saint Petersburg's literary circles. Arrested in 1849 for belonging to a literary group that discussed banned books critical of Tsarist Russia, he was sentenced to death but the sentence was commuted at the last moment. He spent four years in a Siberian prison camp, followed by six years of compulsory military service in exile. In the following years, Dostoevsky worked as a journalist, publishing and editing several magazines of his own and later A Writer's Diary, a collection of his writings. He began to travel around western Europe and developed a gambling addiction, which led to financial hardship. For a time, he had to beg for money, but he eventually became one of the most widely read and highly regarded Russian writers.
On 25 January 1881, while searching for members of the terrorist organisation Narodnaya Volya ("The People's Will") who would soon assassinate Tsar Alexander II, the Tsar's secret police executed a search warrant in the apartment of one of Dostoevsky's neighbours. On the following day, Dostoevsky suffered a pulmonary haemorrhage. Anna denied that the search had caused it, saying that the haemorrhage had occurred after her husband had been looking for a dropped pen holder. After another haemorrhage, Anna called the doctors, who gave a poor prognosis. A third haemorrhage followed shortly afterwards. While seeing his children before dying, Dostoevsky requested that the parable of the Prodigal Son be read to his children. The profound meaning of this request is pointed out by Frank:
It was this parable of transgression, repentance, and forgiveness that he wished to leave as a last heritage to his children, and it may well be seen as his own ultimate understanding of the meaning of his life and the message of his work.
Among Dostoevsky's last words was his quotation of Matthew 3:14–15: "But John forbad him, saying, I have a need to be baptised of thee, and comest thou to me? And Jesus answering said unto him, Suffer it to be so now: for thus it becometh us to fulfil all righteousness", and he finished with "Hear now—permit it. Do not restrain me!" When he died, his body was placed on a table, following Russian custom. He was interred in the Tikhvin Cemetery at the Alexander Nevsky Convent, near his favourite poets, Nikolay Karamzin and Vasily Zhukovsky. It is unclear how many attended his funeral. According to one reporter, more than 100,000 mourners were present, while others describe attendance between 40,000 and 50,000. His tombstone is inscribed with lines from the New Testament:
Verily, verily, I say unto you, except a corn of wheat fall into the ground and die, it abideth alone: but if it dies, it bringeth forth much fruit.
— John 12:24
Books by Fyodor Dostoyevsky