 2 B R 0 2 B
In this chilling short-story by a master of the craft, Kurt Vonnegut creates a fictional world of the future where life and death are no longer matters of individual choice or destiny. The title refers to the famous quote from Hamlet, "To be or not to be...." with "0" being pronounced as "naught." It also refers to the eternal dilemma of life and death that face every human being at some point in their lives. Written in 1962 it is set in some unspecified time in the future, when earth has become a Utopia. The population is under control, there is no poverty, suffering or even natural death. Man has conquered all. It's common for humans to live for two centuries or more. Death happens only when someone requests it. 2BR02B in the story is the telephone number that volunteers must call when they are ready for assisted suicide. It belongs to the Federal Bureau of Termination which decides that for every child born, one person must volunteer to die. However, all is not perfect in this paradise – human beings still retain a spark of humanity and yearn for freedom. When the story opens, Edward Wehling, a youngish father-to-be is waiting for his wife to give birth. What follows is both spine-chilling and eerie. It makes you introspect about the future of humankind, whether the earth can sustain itself at the pace at which population is growing and about the ethics of concepts like assisted suicide. The reader pauses to wonder whether greater common good can replace love and the individual.
'2 B R 0 2 B' Summary
The setting is a society in which aging has been cured, individuals have indefinite lifespans, and population control is used to limit the population of the United States to forty million, a number which is maintained through a combination of infanticide and government-assisted suicide. In short, for someone to be born, someone else must first volunteer to die. As a result, births are few and far between, and deaths occur primarily by accident.
The scene is a waiting room at the Chicago Lying-In Hospital, where Edward K. Wehling Jr. is faced with the situation that his wife is about to give birth to triplets, but he has found only one person, his maternal grandfather, who will volunteer to die. A painter on a stepladder is redecorating the room with a mural depicting employees who work at the Hospital, including Dr. Benjamin Hitz, the hospital's Chief Obstetrician. Leora Duncan, from the Service Division of the Federal Bureau of Termination, arrives to pose for the mural. It is a picture of a garden that is well taken care of, and a metaphor for the United States at the time. Later, Dr. Hitz enters the scene and converses with everyone but the painter of the mural.
It becomes apparent to all that Wehling is in a state of despair since he does not want to send his grandfather and two of his children to death. Dr. Hitz questions Wehling's belief in the system and tries to make Wehling feel better by explaining how the surviving child will "live on a happy, roomy, clean, rich planet." Suddenly, Wehling draws a revolver and kills Dr. Hitz, Leora Duncan, and himself, "making room for all three children."
The painter, who is about 200 years old, is left to reflect on the scene and thinks about life, war, plague, and starvation. Descending the stepladder, he initially takes the revolver and intends to kill himself with it but is unable to do so. Instead, he calls the Bureau of Termination to make an appointment. The last line is from the receptionist at the Bureau:
"Thank you, sir," said the hostess. "Your city thanks you; your country thanks you; your planet thanks you. But the deepest thanks of all is from all of the future generations."
Book Details
Original Language
English
Genre/Category
Tags/Keywords
Author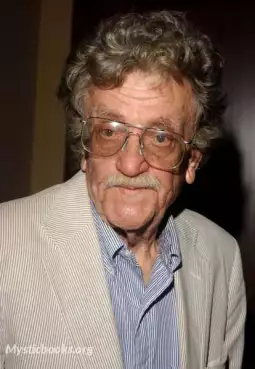 Kurt Vonnegut Jr.  was an American writer. In a career spanning over 50 years, he published 14 novels, three short story collections, five plays, and five nonfiction works, with further collectio...
More on Kurt Vonnegut
Download eBooks
Listen/Download Audiobook
No reviews posted or approved, yet...