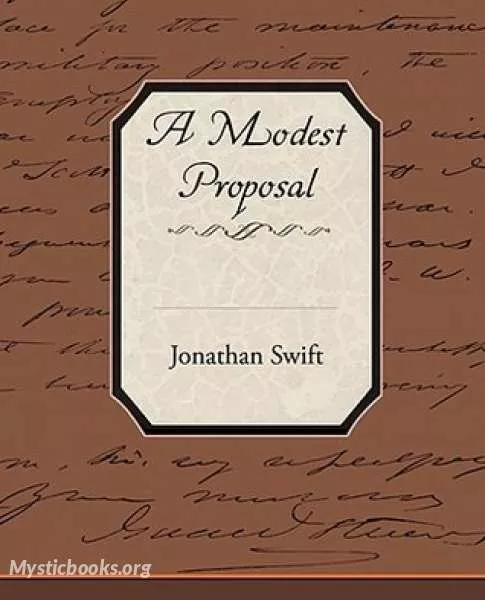 A Modest Proposal
A Modest Proposal For preventing the Children of Poor People From being a Burthen to Their Parents or Country, and For making them Beneficial to the Publick, commonly referred to as A Modest Proposal, is a Juvenalian satirical essay written and published anonymously by Jonathan Swift in 1729. The essay suggests that the impoverished Irish might ease their economic troubles by selling their children as food to rich gentlemen and ladies. This satirical hyperbole mocked heartless attitudes towards the poor, as well as British policy toward the Irish in general.
'A Modest Proposal' Summary
Swift's essay is widely held to be one of the greatest examples of sustained irony in the history of the English language. Much of its shock value derives from the fact that the first portion of the essay describes the plight of starving beggars in Ireland, so that the reader is unprepared for the surprise of Swift's solution when he states: "A young healthy child well nursed, is, at a year old, a most delicious nourishing and wholesome food, whether stewed, roasted, baked, or boiled; and I make no doubt that it will equally serve in a fricassee, or a ragout."
Swift goes to great lengths to support his argument, including a list of possible preparation styles for the children, and calculations showing the financial benefits of his suggestion. He uses methods of argument throughout his essay which lampoon the then-influential William Petty and the social engineering popular among followers of Francis Bacon. These lampoons include appealing to the authority of "a very knowing American of my acquaintance in London" and "the famous Psalmanazar, a native of the island Formosa" (who had already confessed to not being from Formosa in 1706).
In the tradition of Roman satire, Swift introduces the reforms he is actually suggesting by paralipsis:
Therefore let no man talk to me of other expedients: Of taxing our absentees at five shillings a pound: Of using neither clothes, nor household furniture, except what is of our own growth and manufacture: Of utterly rejecting the materials and instruments that promote foreign luxury: Of curing the expensiveness of pride, vanity, idleness, and gaming in our women: Of introducing a vein of parsimony, prudence and temperance: Of learning to love our country, wherein we differ even from Laplanders, and the inhabitants of Topinamboo: Of quitting our animosities and factions, nor acting any longer like the Jews, who were murdering one another at the very moment their city was taken: Of being a little cautious not to sell our country and consciences for nothing: Of teaching landlords to have at least one degree of mercy towards their tenants. Lastly, of putting a spirit of honesty, industry, and skill into our shop-keepers, who, if a resolution could now be taken to buy only our native goods, would immediately unite to cheat and exact upon us in the price, the measure, and the goodness, nor could ever yet be brought to make one fair proposal of just dealing, though often and earnestly invited to it. Therefore I repeat, let no man talk to me of these and the like expedients, 'till he hath at least some glympse of hope, that there will ever be some hearty and sincere attempt to put them into practice.
Book Details
Author
Swift is remembered for works such as A Tale of a Tub (1704), An Argument Against Abolishing Christianity (1712), Gulliver's Travels (1726), and A Modest Proposal (1729). He is regarded by the Encyclo...
More on Jonathan Swift
Download eBooks
Listen/Download Audiobook
Reviews for
A Modest Proposal
No reviews posted or approved, yet...