 His Last Bow
His Last Bow: Some Reminiscences of Sherlock Holmes is a 1917 collection of previously published Sherlock Holmes stories by Arthur Conan Doyle, including the titular short story, "His Last Bow. The War Service of Sherlock Holmes" (1917). The collection's first US edition adjusts the anthology's subtitle to Some Later Reminiscences of Sherlock Holmes. All editions contain a brief preface, by "John H. Watson, M.D.", that assures readers that as of the date of publication Holmes is long retired from his profession of detective but is still alive and well, albeit suffering from a touch of rheumatism.
'His Last Bow' Summary
The disappearance of a German spy and the gathering storm that foretells the prelude to World War I is what greets you in this riveting book. The further you read the more mysteries unfold like secret submarine plans with some pages missing found in the hands of a corpse. There's also family insanity in Cornwall, a dead Spaniard and mafia hiding in an empty London flat.
His Last Bow was published in the Strand Magazine circa 1908 and included several other short stories as well. Even during Sir Arthur Conan Doyle's own lifetime, Holmes had acquired cult status. His deductive methods, brilliant powers of observation, eccentric habits, occasional dabbling in drugs, strange and exotic clients and his connections among the high and mighty across many countries and continents went on to attain legendary fame.
In His Last Bow, Holmes tackles themes like adultery (in The Adventure of the Cardboard Box) which resulted in this particular story being left out of American editions. Holmes' enigmatic and secretive brother Mycroft makes a rare appearance in The Adventure of the Bruce-Partington Plans and Holmes famously remarks, "... that Mycroft should break out in this erratic fashion... A planet may well leave its orbit!" This is also the story where one of Holmes' most famous axioms appears, "...when all other contingencies fail, whatever remains, however improbable, must be the truth."
The title story is somewhat different from the others. This spy story turned murder mystery is not narrated by Dr. Watson. Conan Doyle experts have dubbed it a propaganda tool written to boost the morale of British soldiers in WWI. There are the famous concluding lines which are often mistakenly attributed to Churchill, "There is an east wind coming, Watson... But it is God's own wind, nonetheless..."
For Sherlock Holmes fans, His Last Bow by Sir Arthur Conan Doyle is indeed a thrilling and compelling read from the master of detective fiction.
Book Details
Author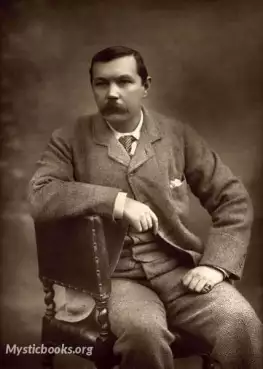 Arthur Conan Doyle was a British author and physician, born on May 22, 1859, in Edinburgh, United Kingdom. He is widely known for his fictional detective stories featuring the iconic character of Sher...
More on Arthur Conan Doyle
Download eBooks
Listen/Download Audiobook
No reviews posted or approved, yet...