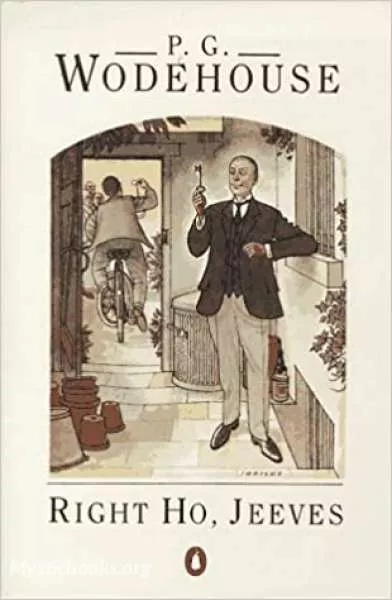 Right Ho, Jeeves
If you're encountering the zany Bertie Wooster and his exceptionally astute Man Friday, Jeeves, for the first time, be assured that you're embarking on a lifetime of fun and laughter! On the other hand, for eternal Wodehouse fans, Right Ho Jeeves provides more glimpses of the delightful world created by one of the best loved English writers. It is the second in the series of Bertie Wooster and Jeeves novels and features some of the regular characters of Brinkley Court, the country seat ruled over by Bertie's much-loved Aunt Dahlia. The absolutely entertaining plot concerns the doings of Bertie's old school chum, newt breeder and member of the infamous Drones Club, Gussie Fink-Nottle, who is described as a "teetotal bachelor with a face like a fish." Gussie falls irrevocably in love with the mushy, sentimental but gorgeous blonde Madeleine Basset but his shyness prevents him from revealing his feelings. Her father, a cantankerous specimen if ever there was one, is the local magistrate and lives with his extensive collection of antique silver in Totleigh Towers. Bertie arrives at Brinkley ostensibly to comfort his cousin Angela, who has just broken her engagement with Tuppy Glossop. Added to this delectable setup you'll find an eccentric chef, an annual prize-giving at the local Market Snodsbury Grammar School, Aunt Dahlia's gambling worries and Bertie's well intentioned meddling and everything brought to a satisfactory conclusion by the genius of that consummate Gentleman's Gentleman, Jeeves—and what you have is classic Wodehousian humor at its best! Contrary to appearances, Wodehouse took immense pains with his plots and characters. He paid minute attention to detail and construction, with some masterly touches of timing, characterization and the use of imaginative prose. For anyone who wants examples of superb English writing, a Wodehouse novel provides a great learning experience along with all the fun. Right Ho Jeeves was adapted in part in the long running and very popular TV series, Jeeves and Wooster. It was also greatly admired by such great novelists as John Le Carre who declared that no library, however humble should be without a well-thumbed copy of this charming book. It appeals to readers of all ages and whether you burst into a quiet chuckle or a full-throated laugh as you follow the crazy adventures of Wooster & Co, these few hours would certainly take you away from the stresses and strains of your workaday world!
'Right Ho, Jeeves' Summary
Bertie returns to London from several weeks in Cannes spent in the company of his Aunt Dahlia Travers and her daughter Angela. In Bertie's absence, Jeeves has been advising Bertie's old school friend, Gussie Fink-Nottle, who is in love with a goofy, sentimental, whimsical, childish girl named Madeline Bassett. Gussie, a shy teetotaler with a passion for newts and a face like a fish, is too timid to speak to her. Bertie is annoyed that his friends consider Jeeves more intelligent than Bertie, and he takes Gussie's case in hand, ordering Jeeves not to offer any more advice.
Madeline, a friend of Bertie's cousin Angela, is staying at Brinkley Court (country seat of Aunt Dahlia and Uncle Tom). Aunt Dahlia demands that Bertie come to Brinkley Court to make a speech and present the school prizes to students at the local grammar school, which he considers a fearsome task. Bertie sends Gussie to Brinkley Court in his place, so that Gussie will have the chance to woo Madeline there, but also so that Gussie will be forced to take on the unpleasant job of distributing the school prizes.
When Angela breaks her engagement to Tuppy Glossop, Bertie feels obliged to go down to Brinkley Court to comfort Aunt Dahlia. In addition to her worry about Angela's broken engagement, Aunt Dahlia is anxious because she has lost 500 pounds gambling at Cannes, and now needs to ask her miserly husband Tom to replace the money in order to keep financing her magazine, Milady's Boudoir. Bertie advises her to arouse Uncle Tom's concern for her by pretending to have lost her appetite through worry. He offers similar advice to Tuppy, to win back Angela. He also offers the same advice to Gussie, to show his love for Madeline. All take his advice, and the resulting return of plates of untasted food upsets Aunt Dahlia's temperamental prized chef Anatole, who gives notice to quit. Not unreasonably, Aunt Dahlia blames Bertie for this disaster.
When Bertie attempts to probe Madeline's feelings about Gussie, she misinterprets his questioning as a marriage proposal on his own behalf. To his relief, she tells Bertie she cannot marry him, as she has fallen in love with Gussie. Bertie relays the good news to Gussie, but even with this encouragement, Gussie remains too timid to propose, and Bertie decides to embolden him by lacing his orange juice with liquor.
Gussie ends up imbibing more liquor than Bertie had intended. Under its influence, Gussie successfully proposes to Madeline. He then delivers a hilarious, abusive, drunken speech to the grammar school while presenting the school prizes. Madeline, disgusted, breaks the engagement and resolves to marry Bertie instead. The prospect of spending his life with the drippy Madeline terrifies Bertie, but his personal code of chivalrous behavior will not allow him to insult her by withdrawing his "proposal" and turning her down. Meanwhile, Gussie, still drunk, retaliates against Madeline by proposing to Angela, who accepts him in order to score off Tuppy. Tuppy's jealousy is aroused and he chases Gussie all around the mansion, vowing to beat him within an inch of his life.
In the face of this chaos, Bertie admits his inability to cope, and appeals to Jeeves for advice. Jeeves arranges for Bertie to be absent for a few hours, and during that time swiftly and ingeniously solves all the problems, assuring that Angela and Tuppy are reconciled, that Gussie and Madeline become engaged again, that Anatole withdraws his resignation, and that Uncle Tom writes Aunt Dahlia a cheque for 500 pounds. Bertie learns his lesson and resolves to let Jeeves have his way in the future.
Book Details
Author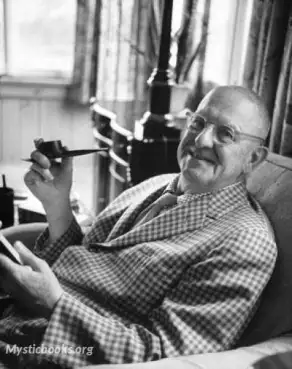 Sir Pelham Grenville Wodehouse was an English author and one of the most widely read humorists of the 20th century. Wodehouse was a prolific writer throughout his life, publishing more than ninety bo...
More on P. G. Wodehouse
Download eBooks
Listen/Download Audiobook
Reviews for
Right Ho, Jeeves
No reviews posted or approved, yet...