 Rob Roy
Rob Roy is a historical novel by Walter Scott, one of the Waverley novels. It is probably set in 1715, the year of the first Jacobite uprising, and the social and economic background to that event are an important element in the novel, though it is not treated directly. The depiction of Rob Roy bears little relation to the historical figure: 'there are two Rob Roys. One lived and breathed. The other is a good story, a lively tale set in the past. Both may be accepted as "valid", but they serve different needs and interests.'
'Rob Roy' Summary
Francis "Frank" Osbaldistone tells his tale, beginning with his return to his father William's merchant house of Osbaldistone and Tresham in Crane Alley, London, from an apprenticeship in a French associate's business. There, he meets with his business-minded father's anger and disappointment, since he has been more preoccupied with writing poetry than learning the business, much to his father's disgust.
William was originally disinherited in favour of his younger brother Sir Hildebrand Osbaldistone, who has inherited both the family fortune and the family seat of Osbaldistone Hall instead. William, turned out at the age of his own son, has built a successful business with his trading company in the City and is a dissenter in religion, unlike his brother.
Owen, the Head Clerk of Osbaldistone and Tresham and a long time friend of the family, attempts to persuade Frank to follow his father's wishes. Frank is not swayed. Instead, William sends him to stay with his uncle Hildebrand in Northumberland, near the border with Scotland. Frank sets out on horseback, meeting some travellers on the way. He observes that one of the travellers is nervous and protective of a box that he carries. Frank begins to tease the traveller, Morris, pretending to assume an interest in the mysterious box.
At an inn, they are joined by a confident and sociable Scottish "cattle dealer" Campbell. They eat and drink and discuss politics together at an inn and then part ways, when Morris entreats Campbell to travel with him to provide protection, since Campbell has recounted how he thwarted two highwaymen singlehandedly.
After Frank parts from the company near his destination, he encounters a fox hunt in progress. A lovely young huntress, dressed in riding habit, greets him and guesses his identity. Frank is smitten by the young woman, noting her intelligence and beauty along with her independent manner. She is Diana "Die" Vernon, a relative by marriage of Sir Hildebrand. They proceed to Osbaldistone Hall, a large, rambling and run-down old manor-house, filled with massive old furniture, rusted suits of armour, hunting trophies, marking the interests of his uncle and cousins.
Frank meets old Sir Hildebrand, a former Cavalier, and his five older sons, each described by Die as given entirely to drinking and sport. At dinner, he meets the youngest brother, Rashleigh, who, unlike his father and brothers, is sober, charming and erudite. Frank notes a connection between Die and Rashleigh. Die explains that Rashleigh, a scholar intended for the priesthood, is her tutor.
The next day, after encountering Andrew Fairservice the gardener, a loquacious Scotsman, Diana tells Frank that he has been charged with robbery and that the local Justice of the Peace Squire Inglewood, has a warrant for his arrest. Rather than flee to Scotland, he determines to protest his innocence. Die guides him and they encounter Rashleigh, who claims to have been pleading Frank's case. After declaring his innocence to the Justice, Frank confronts his accuser, who is none other than Morris. Morris, a government paymaster, has been robbed of his mysterious box, which contained gold specie with which to pay the English troops in the area. Frank's prior light-hearted interest in Morris' box on the journey north is the basis for the charge.
Book Details
Original Language
English
Genre/Category
Tags/Keywords
Author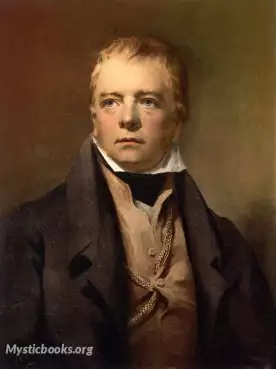 Sir Walter Scott, 1st Baronet was a Scottish historical novelist, poet, playwright, and historian. Many of his works remain classics of both English-language literature and Scottish literature. F...
More on Sir Walter Scott
Download eBooks
Listen/Download Audiobook
No reviews posted or approved, yet...