 Something New
Something Fresh is a novel by P. G. Wodehouse, first published as "Something New" in the United States, by D. Appleton & Company on 3 September 1915. It was published in the United Kingdom as "Something Fresh" by Methuen & Co. on 16 September 1915. There are a number of differences between the American and British versions, but essentially, it is the same book. The novel introduces Lord Emsworth of Blandings Castle, whose home and family reappear in many of Wodehouse's later short stories and novels. The story is a comic caricature of English aristocratic life and the American aristocracy of wealth. The servants of the English country house, who follow a very elaborate hierarchy and take meals at many different social levels, mimic their betters, "and in so doing make their betters look absurd".
'Something New' Summary
Ashe Marson and his fellow lodger Joan Valentine discover that they both work as writers for the Mammoth Publishing Company. Joan urges Ashe to overcome his discontentment and take a fresh direction in life.
Meanwhile, Freddie Threepwood, younger son of the Earl of Emsworth, is engaged to marry Aline Peters, the daughter of American millionaire J. Preston Peters. Freddie pays a visit to a shady fixer, R. Jones, hoping to recover letters he once sent to a certain chorus girl, feeling they might be used to make a breach of promise case against him. His father later calls on Aline's father to view his collection of scarabs and absent-mindedly puts Mr Peters' prize exhibit in his pocket. Though Peters suspects the Earl, he cannot confront him for fear of endangering his daughter's marriage.
Aline is being pursued by George Emerson, a Hong Kong police officer, who wishes to marry her. Having befriended Freddie Threepwood, George has been invited to Blandings Castle, the family home, at the same time that Aline and her father are paying a visit. R. Jones finds the address of Freddie's ex-sweetheart, Joan Valentine, who tells him she has long since destroyed any letters she may have had from Freddie. As Jones is leaving, Aline, a former school friend of Joan, arrives on a visit, and the suspicious Jones listens at the door. Hearing that Aline's father is offering £1,000 to anybody who can retrieve his scarab, Joan decides that she will go herself to Blandings, posing as Aline's maid, so as to recover the scarab and scoop the reward. Acting separately, Ashe answers a newspaper advert and is engaged as his valet by Mr. Peters, who is looking for somebody to steal back the scarab during his visit to Blandings.
Ashe informs Joan about this as they both take the train from London. During the trip Joan warns Ashe of the complicated system of etiquette observed among servants of a large house. She hopes this will persuade him to give up his quest and remove himself as her competitor. After their arrival, Ashe is terrified to be interviewed by the butler, Beach, and has to listen to a recital of his troubles with his feet and his stomach. Mr Peters also has stomach trouble and Ashe threatens him with non-cooperation unless he takes some exercise and stops smoking cigars.
At night, Ashe and Joan are both trying to get at the scarab when Lord Emsworth's watchful secretary, Rupert Baxter, nearly catches them. Next morning, Ashe and Joan decide to become allies and, after flipping a coin, agree to take turns at stealing the scarab. Since Aline is following the same reduced diet as her father, George steals downstairs to prepare her a midnight feast and collides with Ashe in the dark hall. They start a noisy fight but escape after the suspicious Baxter trips over them and is found surrounded by food and broken china by the time the lights are turned on. He is blamed for waking everyone and roundly criticised by Lord Emsworth for going in search of food in the middle of the night.
The next night is Joan's turn to make her attempt, but she finds the scarab has already gone. Putting together clues, she and Ashe discover that Freddie needs money to pay R. Jones, who is pretending that Joan is demanding it for the return of his letters. But Freddie is an admirer of the detective tales that Ashe writes and decides to trust him, confessing to the theft and returning the scarab. As Ashe leaves, Lord Emsworth arrives to announce that Aline has eloped on the train to London with George Emerson, who has been recalled to Hong Kong. Freddie is more relieved than hurt at this revelation.
When Ashe returns the scarab, Mr Peters offers to take Ashe back to America as his personal trainer in reward for the improvement in his health. Ashe hesitates long enough to ask Joan to marry him, and she admits she has been grieving at what seems to be the end of their partnership; as a result, a scullery maid looking out of the window has her dull life enriched as she sees them kissing.
Book Details
Original Language
English
Genre/Category
Tags/Keywords
Author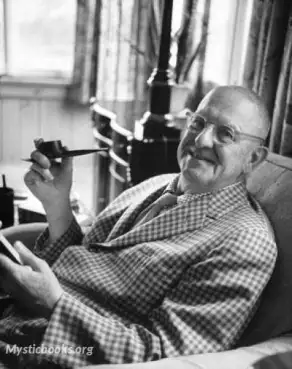 Sir Pelham Grenville Wodehouse was an English author and one of the most widely read humorists of the 20th century. Wodehouse was a prolific writer throughout his life, publishing more than ninety bo...
More on P. G. Wodehouse
Download eBooks
Listen/Download Audiobook
Reviews for
Something New
No reviews posted or approved, yet...