 The Adventures of Sammy Jay
In the heart of the Green Forest, where the trees stand tall and the creatures roam free, resides Sammy Jay, a mischievous blue jay with a penchant for adventure. Join Sammy as he navigates the wonders and perils of the forest, encountering a cast of endearing characters along the way, from the wise old Grandfather Crow to the mischievous Reddy Fox. Sammy's playful antics often land him in tricky situations, but his wit and resourcefulness always help him find his way out. Whether he's stealing nuts from the Squirrels' store or playing pranks on the other animals, Sammy's escapades are sure to entertain young readers.
'The Adventures of Sammy Jay' Summary
Sammy Jay, a mischievous but clever blue jay with a bright blue coat and a raucous cry, is a beloved character in Thornton Waldo Burgess's classic children's book, The Adventures of Sammy Jay. The story unfolds in the heart of the Green Forest, where Sammy Jay and his animal friends – Peter Rabbit, Chatterer the Red Squirrel, Grandfather Crow, and Reddy Fox – engage in a series of heartwarming and humorous adventures.
Sammy Jay, known for his playful pranks and penchant for stealing shiny objects, often finds himself in sticky situations. His mischievous nature leads him to steal acorns from Chatterer's hoard, pull Peter Rabbit's tail, and even pilfer the shiny buttons from Reddy Fox's vest. Despite his mischievous ways, Sammy Jay is a loyal friend and a valuable asset to the inhabitants of the Green Forest.
One sunny morning, Sammy Jay spots Reddy Fox sneaking towards Peter Rabbit's burrow. Sammy Jay, aware of Reddy Fox's reputation for mischief, immediately warns Peter Rabbit, saving him from becoming Reddy Fox's next meal. On another occasion, Sammy Jay discovers a hawk perched high in a tree, ready to swoop down on unsuspecting creatures. Sammy Jay's loud warning cry alerts the forest animals, allowing them to escape the hawk's clutches.
Throughout his adventures, Sammy Jay learns valuable lessons about the importance of honesty, respect, and the consequences of his actions. He discovers that his mischievous pranks often hurt others and that earning the trust of his friends is more rewarding than playing tricks. Sammy Jay's character arc teaches young readers about the importance of self-reflection and personal growth.
Thornton Waldo Burgess's The Adventures of Sammy Jay is a delightful tale of friendship, adventure, and the importance of respecting nature. Sammy Jay's mischievous antics and endearing personality captivate young readers, while the stories impart valuable life lessons in a subtle and engaging manner. The book encourages children to appreciate the beauty of the natural world and the importance of harmony among its inhabitants. Sammy Jay's transformation from a mischievous prankster to a responsible and caring friend serves as a positive role model for young readers, reminding them that everyone can change for the better.
Book Details
Original Language
English
Genre/Category
Tags/Keywords
Author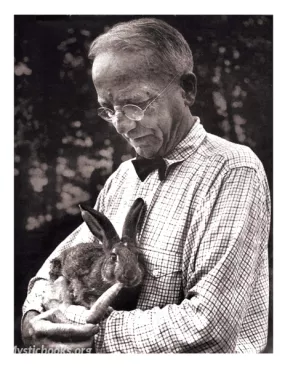 Thornton Burgess was an American author, naturalist, and conservationist known for his children's books featuring animal characters. He was born in Sandwich, Massachusetts, in 1874, and grew up in a r...
More on Thornton W. Burgess
Download eBooks
Listen/Download Audiobook
Reviews for
The Adventures of Sammy Jay
No reviews posted or approved, yet...