 The Life and Death of Mr. Badman
by John Bunyan
The Life and Death of Mr. Badman is a 1680 book by John Bunyan. It was designed as a companion to The Pilgrim's Progress and was published by Nathaniel Ponder. The two characters have a dialogue about sin and redemption over the course of a long day.
'The Life and Death of Mr. Badman' Summary
Bunyan announces that Mr Badman is a pseudonym for a real man who is dead. Mr Badman's relatives and offspring continue to populate Earth, which "reels and staggereth to and fro like a Drunkard, the transgression thereof is heavy upon it." In a mock eulogy, Bunyan says Mr Badman did not earn four themes commonly part of a funeral for a great man. First, there is no wrought image that will serve as a memorial, and Bunyan's work will have to suffice. Second, Mr Badman died without Honour, so he earned no badges and scutcheons. Third, his life did not merit a sermon. Fourth, no one will mourn and lament his death. Bunyan then describes the sort of Hell awaiting Mr Badman, citing Scripture. He said he published it to address the wickedness and debauchery that had corrupted England, as was his duty as a Christian, in hopes of delivering himself "from the ruins of them that perish."
Book Details
Original Language
English
Genre/Category
Tags/Keywords
Author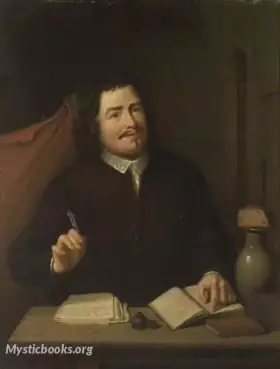 John Bunyan was an English writer and Puritan preacher best remembered as the author of the Christian allegory The Pilgrim's Progress. In addition to The Pilgrim's Progress, Bunyan wrote nearly sixty...
More on John Bunyan
Download eBooks
Listen/Download Audiobook
Reviews for
The Life and Death of Mr. Badman
No reviews posted or approved, yet...